Nellie Boyd has been visiting Bubblecup Tea Zone since she was in high school. The experience, she says, always goes something like this: she stands in line, perusing the menu and wondering what exotic new brew she's going to try. Then, once at the register, she orders her regular: classic milk tea.
Every single time.
"I plan to be daring, but by the time I order, I get the milk tea. Now, on the other side of the counter, I watch others doing the exact same thing," says Boyd, a recent MU graduate who has been manager of the tea shop since June.
To be fair, the menu can be a little daunting. There are a lot of combinations of bubble drinks. Served hot or cool, bubble tea is oftentimes infused with fruit or creamy flavoring, and there are usually chewy tapioca balls at the bottom.
At Bubblecup Tea Zone, classic milk teas are offered in any number of creamy and fruity combinations. There are flavors considered traditional and other "American" tea flavors such as lemon, raspberry, and peach. Other unique offerings include green apple, watermelon, passion fruit, caramel, lavender, rose, and honeydew. Sea salt teas and coffee are also available. There are also dozens of flavored slush and snow drinks as well — beverages that keep Bubblecup Tea Zone especially busy during the warm months.
"Summer is usually our busiest time," says Tzu-Yang Chao, who purchased the shop last year. "There are lines to the sidewalk."
Decisions, Decisions
When you decide which drink to order, there are more decisions to be made: do you want it hot or cold? Do you want toppings? Whipped cream or strawberries? Pudding or jelly?
And, of course, there are the "boba" balls.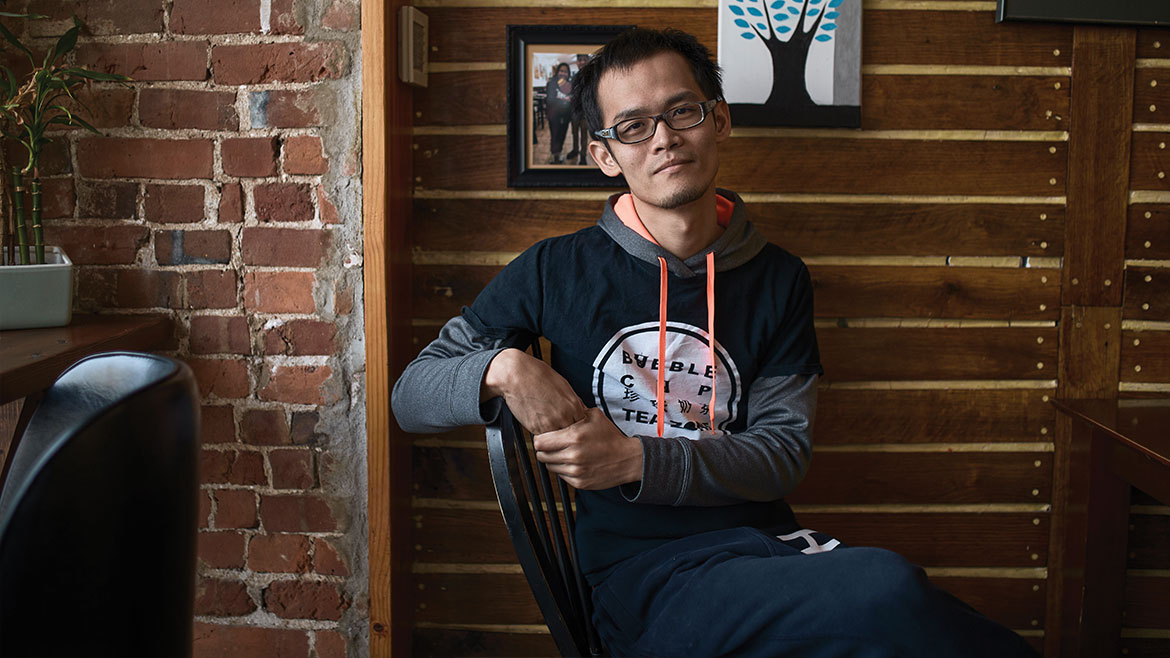 Boba, or tapioca pearls, are the oftentimes dark balls seen at the bottom of bubble tea cups. They have a semi-chewy consistency and a semi-sweet, almost nutty flavor. To enjoy them, bubble tea comes with extra fat straws that allow you to suck them up.
(Bubblecup Tea Zone has a secret menu item too, for those feeling risky. Ask for the "Elf's special" and let the staff work their magic to create a unique blend just for you.)
Regardless of your order, Chao ensures that all options at Bubblecup are freshly brewed, natural, and healthy. Originally from Taiwan, Chao wasn't necessarily looking to become a business owner when he relocated to Columbia four years ago to enroll in graduate school. He came to the MU because of the reputation of the statistics program; he also wanted to move to the Midwest specifically to immerse himself in English and become more fluent. Chao began visiting Bubblecup Tea Zone for a taste of home.
Bubble tea originated in Taiwan in the 1980s, although there are conflicting reports of how it came to be. According to the Bubble Tea Supply company, the drink came about when a tea stand owner catering to elementary children began adding fruit flavors to teas, shaking mixtures together creating bubbles. However, Liu Han-Chieh, a Taiwanese tea shop owner, also claims credit — his store was first to add the tapioca pearls.
Bubble tea shops have been in the U.S. for more than a decade, finding an audience among college students and millennials, 87 percent of whom drink tea, according to the Tea Association of the USA. Columbia saw its first bubble tea shop open at the Columbia Mall in 2006. A couple of years later, the store, Lollicup Tea Zone, opened a second location at 23 S. Ninth Street. The shop was later sold and became Bubblecup.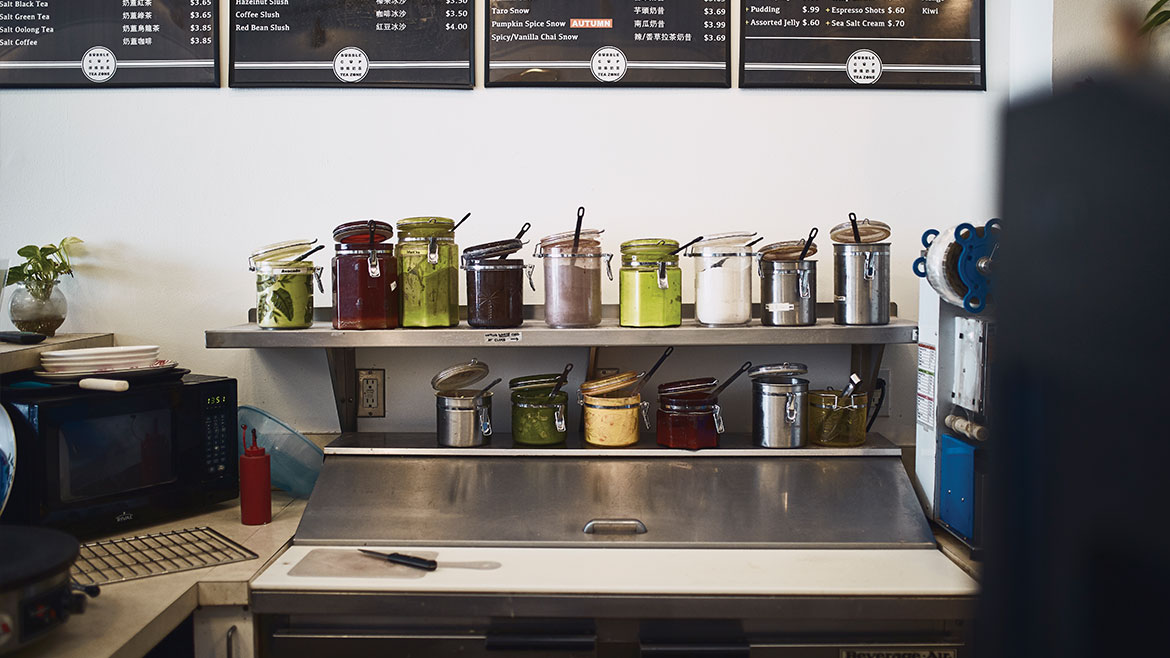 When Chao moved to Columbia in 2013, he found not only an assortment of refreshments, but also a community of friends at Bubblecup. He frequented the shop while completing master's degrees in economics and statistics. When the previous owners wanted to sell, Chao purchased Bubblecup Tea Zone to preserve tradition, and because he believed he could introduce the beverages to new audiences. There are often misunderstandings about bubble tea, he says. It's not just milk and tapioca.
"Coffee in American culture is like tea in Asia," he says. "So when we say, 'let's get a tea,' it's like when Americans say 'let's go out for a coffee or a drink.'"
Making Moves
After taking over the store, Chao renovated the interior to give it a brighter look. He also revamped the logo and updated the signage for a more modern feel.
Chao expanded the menu, too. In addition to adding new beverage flavors, customers can enjoy chocolate or Nutella crepes with fruit or unique snacks. In fact, Bubblecup Tea Zone, he says, is the only shop in Columbia where you'll find taro balls, a traditional Taiwanese dessert.
He hopes the changes help draw in people who may not have considered trying bubble tea in the past. Historically, Columbia's bubble tea shop has attracted a mostly Asian clientele, he says. "I want to transform it for a new generation."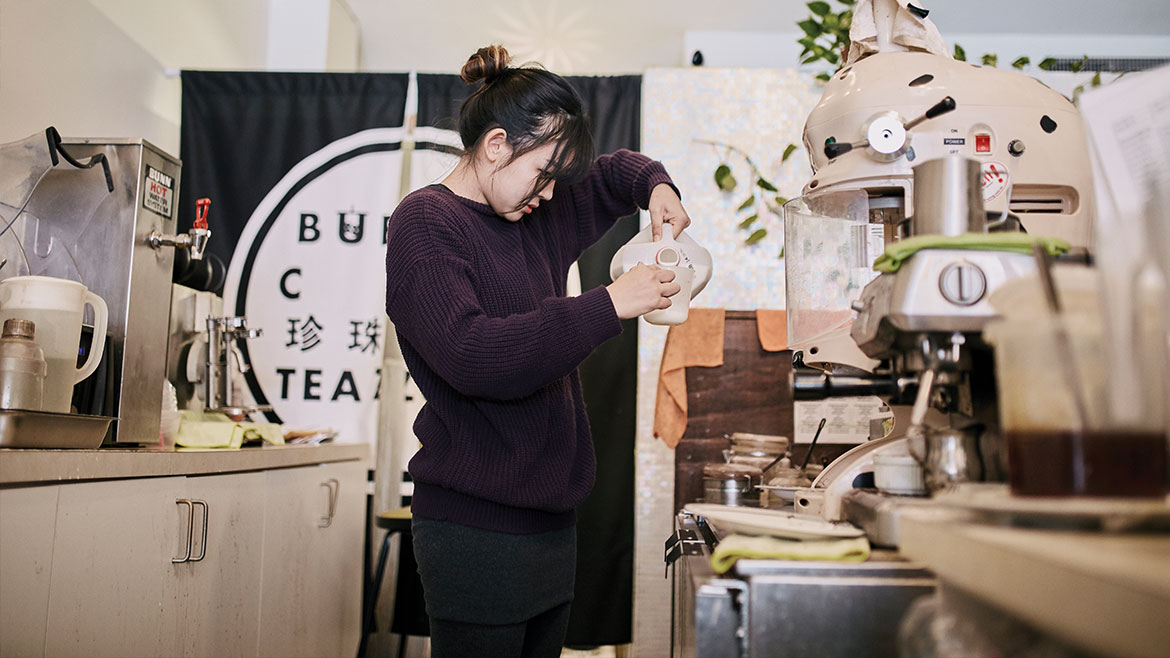 Chao is hopeful a second tea shop on Columbia's south side will attract an entirely new customer base. He has plans to open a second location this fall near Nifong and Providence, although he has not yet secured a location. Unlike the downtown shop, which attracts mostly to-go orders, Chao wants the new location to be more like a café, where people can relax and meet with friends. In addition to snacks, the new restaurant will also offer lunch and dinner options.
Boyd, who will remain at the Ninth Street shop, praises Chao for making changes that introduce bubble tea to new audiences.
"It's a really welcoming, friendly place," she says. "It's a place where people of all backgrounds can share an experience together. It's inspiring."
As manager, Boyd says she's now sampled everything on the menu.
"Now that I know everything is good, it's even harder to decide what to order," she says. "Still, regular milk tea is my favorite."