Making beer and playing music in Tyson Hunt's garage ignited the idea of opening a brewery with his best friends, Judson Ball and Andrew Sharp. "The beer was definitely better than the music, and we thought, 'Well, maybe we want to do something with this,'" Hunt says.
Hunt, Ball, and Sharp co-founded Logboat Brewing Co. in 2014 on Fay Street. "We had to pick a path, and I think we chose wisely," Hunt laughs.
Four years later, Logboat is working on their fourth expansion of tanks and production capacity. That may seem hard to keep up with, but for Logboat, moving quickly, efficiently, and deliberately is their specialty (alongside brewing craft beer).
A 'Cool' Expansion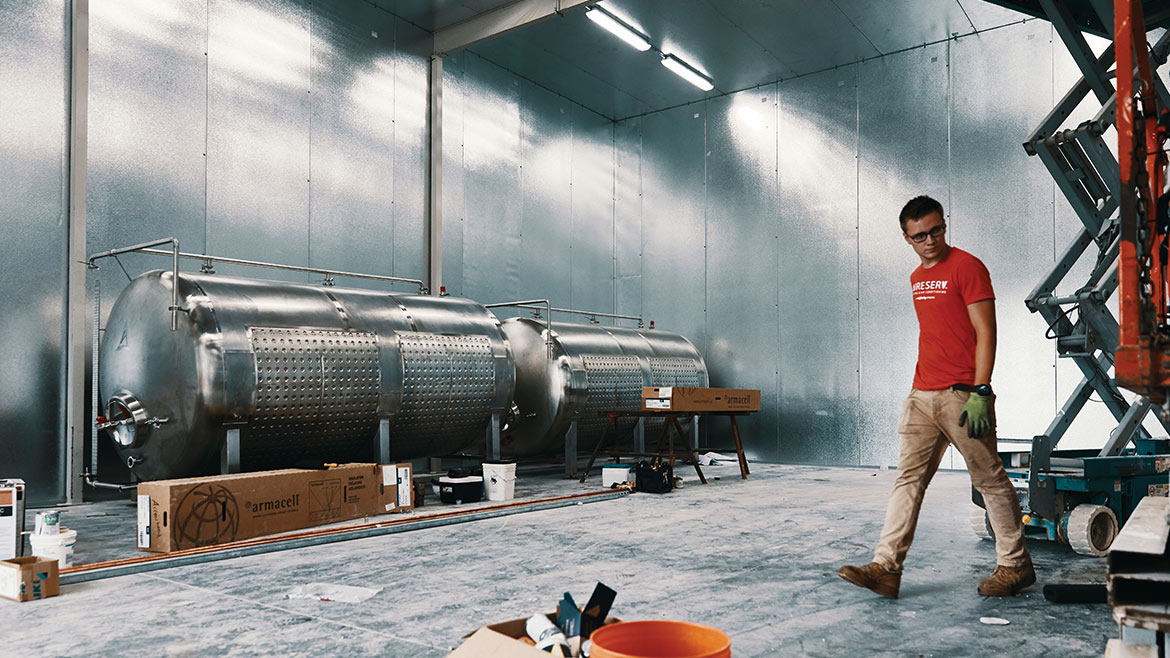 The brewery is closed to the public on Mondays, so the Logboat crew uses that time to kick their production efforts into high gear. When the size of their existing cooler couldn't keep up with the production and packaging speed they needed, Hunt says they decided to expand their footprint.
Logboat broke ground on a new cooler addition earlier this year. The cooler is responsible for holding the beer supply for Logboat's taproom and the packaged beer that is shipped out by their retailer, Major Brands.
The new cooler, which is around 1,400 square feet, can accommodate the packaged beer and kegs that the previous cooler could not. Being restricted by the former, small cooler began to slow production down, which wasn't cutting it for a growing business.
"It really put a restraint on how much beer we can package in a week," Hunt says. With the small cooler, any beer that wouldn't fit in the cooler was left out. "That's when beer starts piling up in the hallways — it's just really inefficient," Hunt says.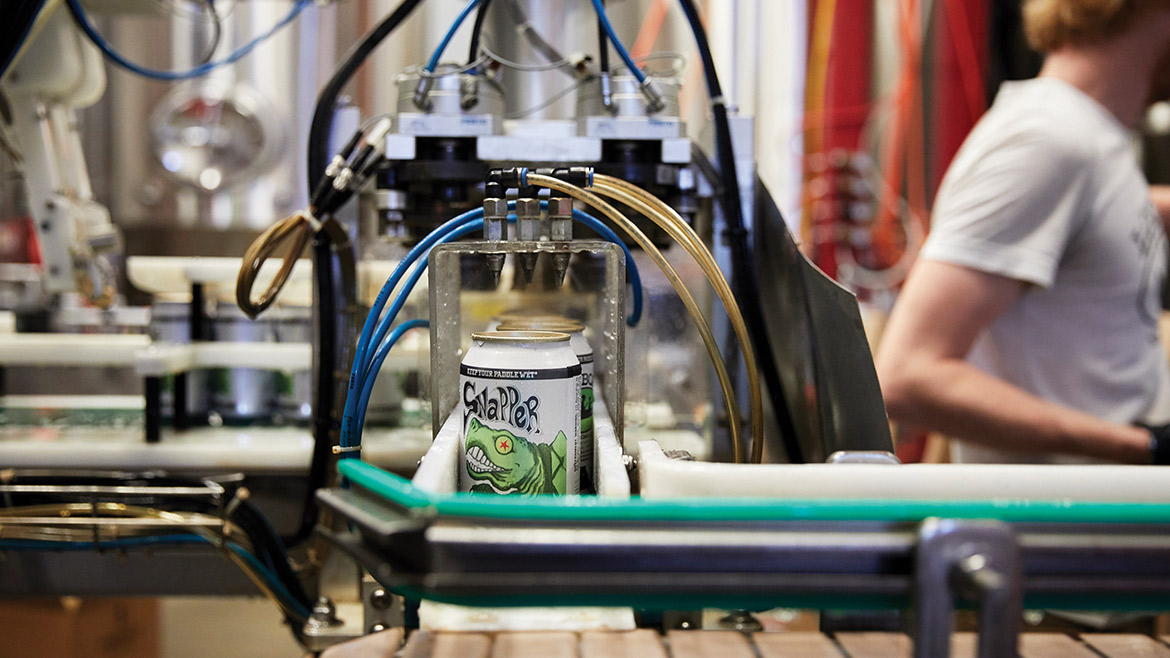 The new, larger cooler allows Logboat the space to package for more than five days a week and adds two horizontal 60 barrel lagering tanks, which will increase production of Logboat favorites like Snapper and Bobber.
As for a possible fifth expansion in the future, Sharp is unsure. "This current addition is maxing us out in our current footprint," Sharp says. "Our next big conversation will be either to expand where we go or add a different location."
But no worries on ever saying goodbye to the current Logboat location. "We'll always be on Fay Street. That's the mother ship," Hunt says.
If You Brew It, They Will Come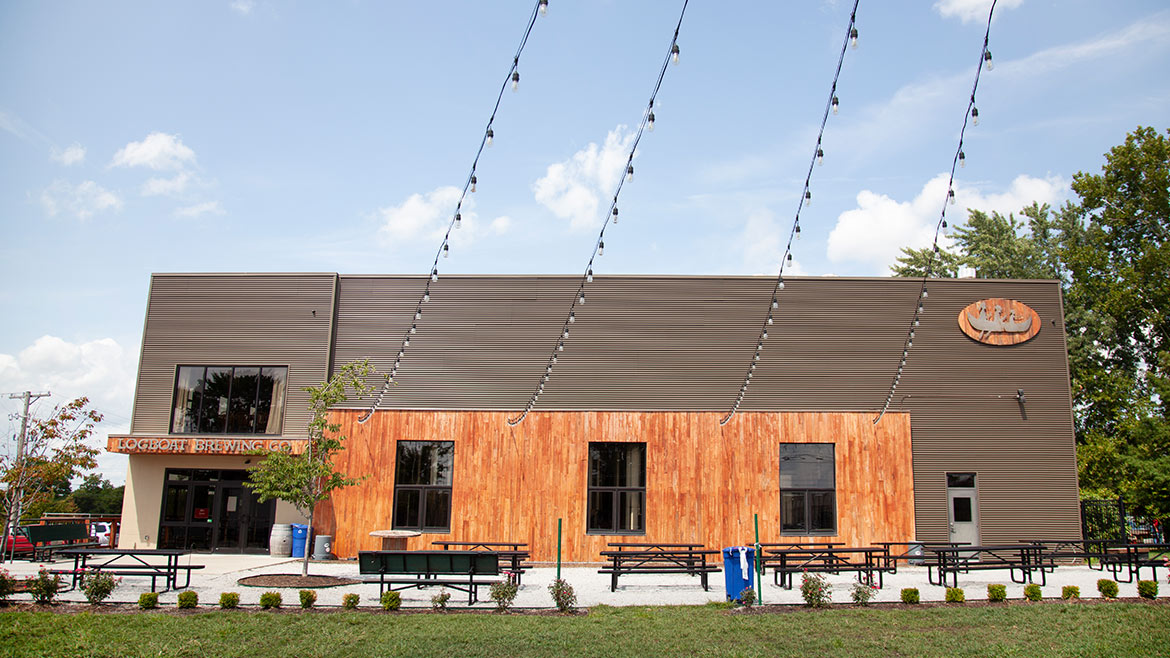 During the last four years, Hunt says Logboat has become a community gathering place for people in Columbia, and they've been working on increasing and improving areas for beer drinkers to come together.
Logboat's outdoor area, The Logboat Park, was renovated in the spring. Formerly just a grassy open space, the brewery added a gravel area for picnic tables, creating a more "traditional-style beer garden," Ball says.
Regular usage of the outdoor space from customers and by large corporate events was continually killing the grass and calling for several sod replacements, which spurred the idea to renovate the space.
"Since we opened, it's been a battle to keep grass growing with people using the yard," Hunt says. They also recently added shade sails over the seating area.
Logboat employees recently moved into offices across the street from the brewery, which opened up the upstairs area as private rental space. Hunt says they've had wedding rehearsal dinners, baby showers, and many other celebrations in the space, which overlooks the brewing and production area.
Creating areas within the brewery for customers to enjoy has helped educate the public on craft beer production as well as Logboat's ethos. "People get to know what it is we're about and who we are as independent brewers and what this means for our community and other communities. It's been real positive," Hunt says.
Getting to know organizations, local businesses, and customers also has a lot to do with the growth and success of Logboat, Hunt says. "We've gotten to meet so many wonderful people through this project, and every day is new introductions and opportunities to think differently about how a community interacts," Hunt says. "I think that's really our focus going forward. Let's make the best beer we possibly can and really help make our community a better place to live."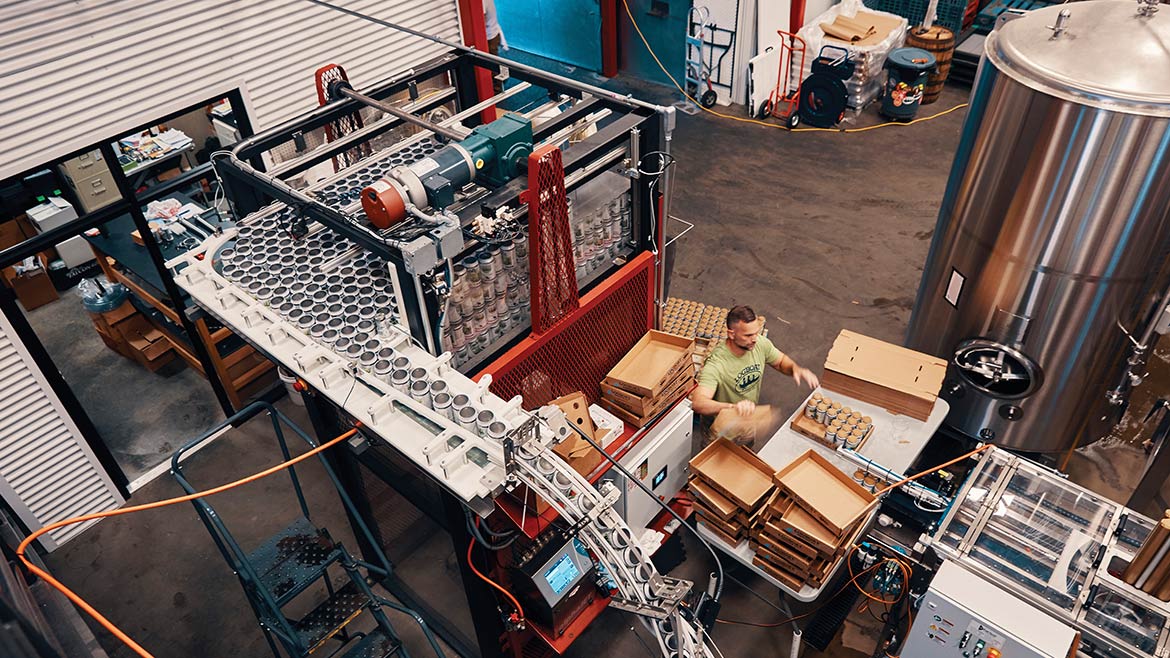 The Growing Thirst
Logboat's beer is currently sold in 26 counties in Missouri, which is all they can keep up with right now. Their selling areas include north up to Kirksville, south to Lake of the Ozarks, west to Boonville, and east to St. Louis. "We originally thought we wouldn't be selling as much beer as we're selling, but we've just had so much support locally, so we've really focused on not overextending our reach," Ball says.
Logboat is perfectly content in Missouri for the time being. "We want to be able to take care of Missouri and other counties, so we don't have any plans to brew out of state when we have this kind of support," Sharp says.
With the help of the additional cooler and lagering tanks, selling in Kansas City is on the horizon, though the additional cooler may not be enough to accommodate a production increase of that size.
"We want to make sure Columbia always gets the beer they need and that we're still producing the highest quality beer we can make," Ball says. "We won't sacrifice Columbia not getting the beer they need or sacrifice quality over expanding our territories."
The thirst in other Missouri regions is evident when hearing from family, friends, and former Columbia residents, which makes expansion a priority moving forward.
Ball says, "We've got to make more beer, which is a wonderful problem to have."
Logboat Brewing Co.
504 Fay St.
logboatbrewing.com
573-397-6786