Women's Network celebrates and champions the women in Columbia by providing community and recognition.
Gender equality in the workplace is a hot topic right now. The national conversation is rife with thoughts on representation, equal pay, equal rights, and more. Fortunately, this conversation took a big step forward for Columbia in 1979 and has led to a community of incredible businesswomen.
Forty years ago, the Columbia Chamber of Commerce realized they had a shocking imbalance in their membership: Out of 600 members, only 12 were women. The chamber looked for a solution that would encourage more women to become members.
"Women's Network was created so that women would have a place in our community — a place to connect with other women professionals, a place to gain leadership experience, and a place to build up the women in our community," explains Brandi Spurling, director of Women's Network.
Women's Network was named a division of the Columbia Chamber of Commerce in 1981 and began with 79 members. It has since grown to be the largest division of the chamber. "In those 40 years, we've continued to be a beacon for women's programs across the state through our mission to connect, empower, and engage our more than 400 members through leadership development, educational opportunities, and innovative outreach."
Along with development, education, and outreach, Women's Network makes a point to recognize local women who are significant contributors to the community through the Debin Benish Outstanding Businesswoman Award, ATHENA Leadership Award, and ATHENA Young Professional Award.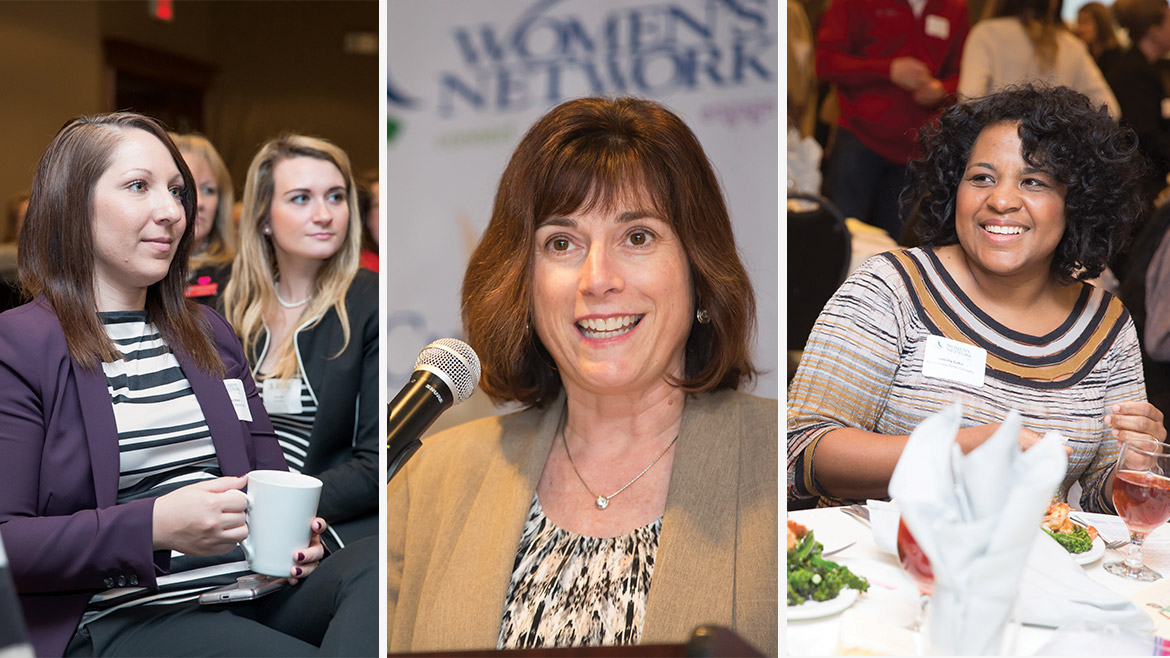 Championing Women in Business
In 1986, local businesswoman Debin Benish founded the consulting company Delta Systems. She wanted to help local businesses, nonprofits, universities, and more build and grow through Delta Systems' web expertise.
In addition to working in Columbia, Benish was active in the community through the Chamber of Commerce and Women's Network. After Benish's death in 2005, Women's Network decided to carry on her legacy of giving with the annual Debin Benish Outstanding Businesswoman Award. The first recipient of this honor was Lili Vianello, owner and president of Visionworks Marketing Group.
The Debin Benish Outstanding Businesswoman Award "is a way for Women's Network to continue to champion our local businesswomen and the vital role they play in our community every day," Spurling says. "People that describe Debin speak about her infectious personality, her wit, and her incredible mind. It's rare that the legacy of an individual radiates so clearly even years after their passing, but in my short time in Women's Network, I've seen nothing else be more true. Women's Network is fortunate to have the honor of celebrating Debin's legacy along with Delta Systems and her husband, Dave Benish."
Each summer, at the chamber's annual membership dinner, a businesswoman nominated by her peers is presented with the Debin Benish Oustanding Businesswoman Award. The criteria for nomination are the exhibition of leadership in supporting small business, a record of volunteering in the community, the mentoring of other businesswomen, and chamber membership (preferably the candidate is also a Women's Network member).
Lindsay Young Lopez, executive director for the Food Bank of Central and Northeast Missouri, was the 2018 Debin Benish Outstanding Businesswoman Award recipient. She was recognized with this award due to her incredible work with the Food Bank, most notably as the official charitable partner of Mizzou athletics.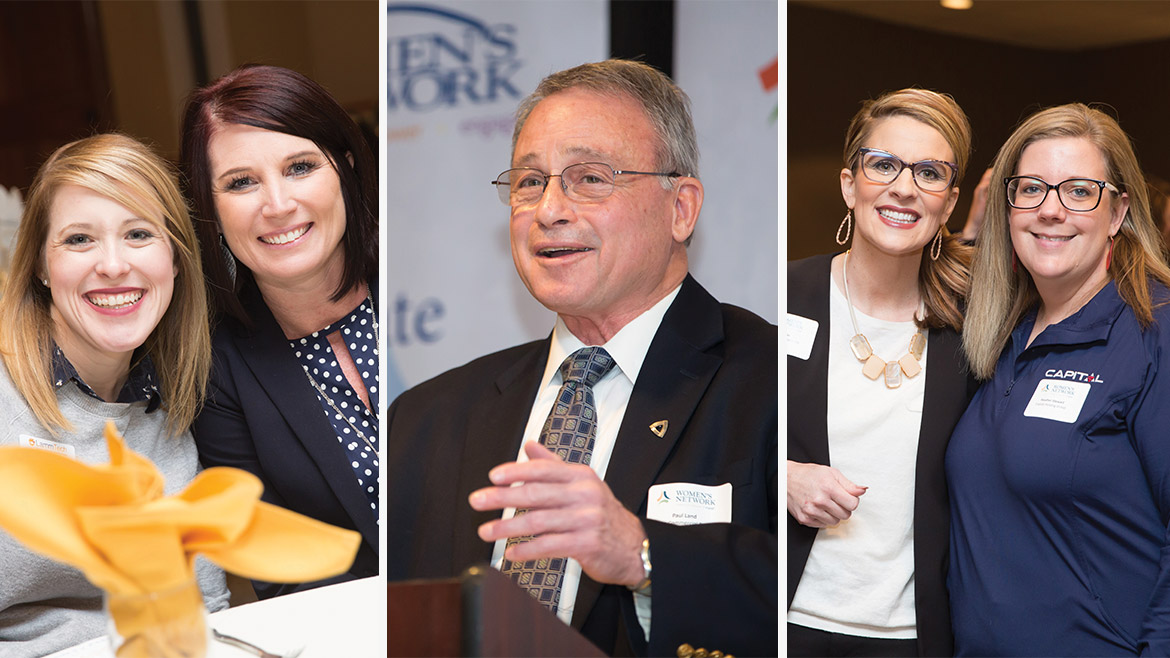 Recognizing Excellence
Women's Network also gives out the ATHENA Leadership Award and ATHENA Young Professional Award. The leadership award was established in 1982, but Women's Network didn't begin presenting it until 1995. ATHENA's mission of recognizing women (and men) around the world who excel in their work, give back to their community, and help raise up other leaders fits perfectly within the mission of Women's Network. The first recipient was Landmark Bank's Linda Arnold.
"Twenty-five years later, we're still so honored to be a small part of the worldwide ATHENA legacy," Spurling says. "Each year, we host a banquet to celebrate the finalists and recipients as well as look back on the long list of strong, inspirational individuals we have recognized in the past. To look at that list is to truly see the power that Columbia has had within its borders for so long. Each individual is an inspiration in our community, and without their life's commitment to raising up women and giving back to our community, our awards would only be half as successful as they are."
Nominees for the ATHENA Leadership Award and ATHENA Young Professional Award must achieve the highest level of professional excellence, contribute time and energy to improve the quality of life for others in their community, and actively assist others in realizing their full leadership potential.
At the 2018 ATHENA International Awards banquet, Sarah Dubbert, from Commerce Bank, received the ATHENA Young Professional Award, and Bea Litherland Smith, PhD and dean emeritus of the college of human environmental sciences at MU, received the ATHENA Leadership Award.
Looking Forward
Much like the 1979 chamber, Women's Network is now placing its focus on an issue of diversity.
"Diversity is a very important topic within Women's Network and the chamber," says Spurling. "In the past six months, Women's Network has begun diversity and inclusion training with Nikki McGruder and the Inclusive Impact Institute in an effort to begin working toward one of our strategic pillars: diversification of membership.
"We were founded on the purpose of having a minority voice in an organization, and our leadership continues to look forward for opportunities to continue this work," she says. "From the training, Women's Network has created a task force committed to identifying opportunities to increase diversity and to ensure every individual feels at home within Women's Network. We're constantly looking at the programming that we're offering to continue to build upon and improve the experience of all of our members within Women's Network and the Chamber of Commerce."
Women's Network
300 S. Providence Rd.
573-874-1132