The Missouri State High School Activities Association supports schools in a variety of ways.
A major event like the 2019 Missouri State High School Activities Association Show-Me Showdown games showcases some of the state's best athletes and teams to approximately 36,000 fans. It's also a time for MSHSAA to shine.
Much of what the Columbia-based association does, in addition to filling arenas and state championships, is serve a membership of 735 schools by shaping a vibrant future for athletics and activities in the state.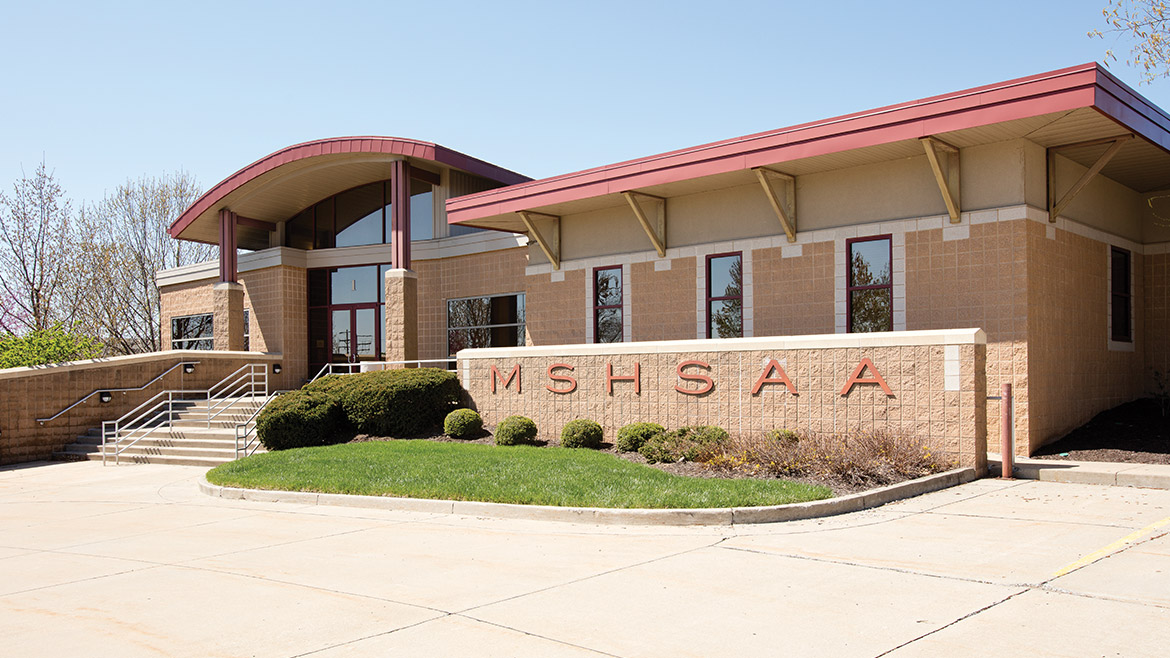 Recruiting Officials
One of MSHSAA's current priorities is recruiting and retaining new officials.
Across all sports, a large percentage of MSHSAA officials are over 50 years old. For example, during the 2017 season, 60 percent of registered softball officials were over the age of 50, with ages 60 through 69 making up 32 percent of the overall number.
The potential consequences of older officials stepping aside without having an equal number of younger officials ready to go has moved MSHSAA to take action before the imbalance becomes more pronounced.
"Our efforts to recruit officials was more of a proactive than reactive initiative," MSHSAA communications director Jason West says. "We haven't gotten to where it's been a catastrophic thing yet."
One of their signature recruitment initiatives, Trade Your Stripes, launched last year.
The program encourages those serving in the National Guard, recently retired servicemembers, and veterans to trade in their military stripes for sports officiating stripes. Many of the skills required for military service — like working as a team and dealing with high-intensity or stressful environments — translate well into athletic venues.
The idea was inspired by Battlefields to Ballfields, a national nonprofit founded by former NFL official Mike Pereira.
Two additional programs are tied to high schools. The 4-for-1 plan challenges coaches to recruit one former athlete into officiating every four years. Member schools were also asked to find two 2018 graduates (one male and one female) to become officials.
In 2018, MSHSAA had 129 new official registrations, including 73 fully-certified new officials in at least one sport. There are currently 5,500 individuals who are certified to officiate at least one sport.
"We've got three programs that we're excited about and that have helped," West says. "Trade Your Stripes was something we came up with and developed, and it seems to be taking off. It may be able to take off in other states, too."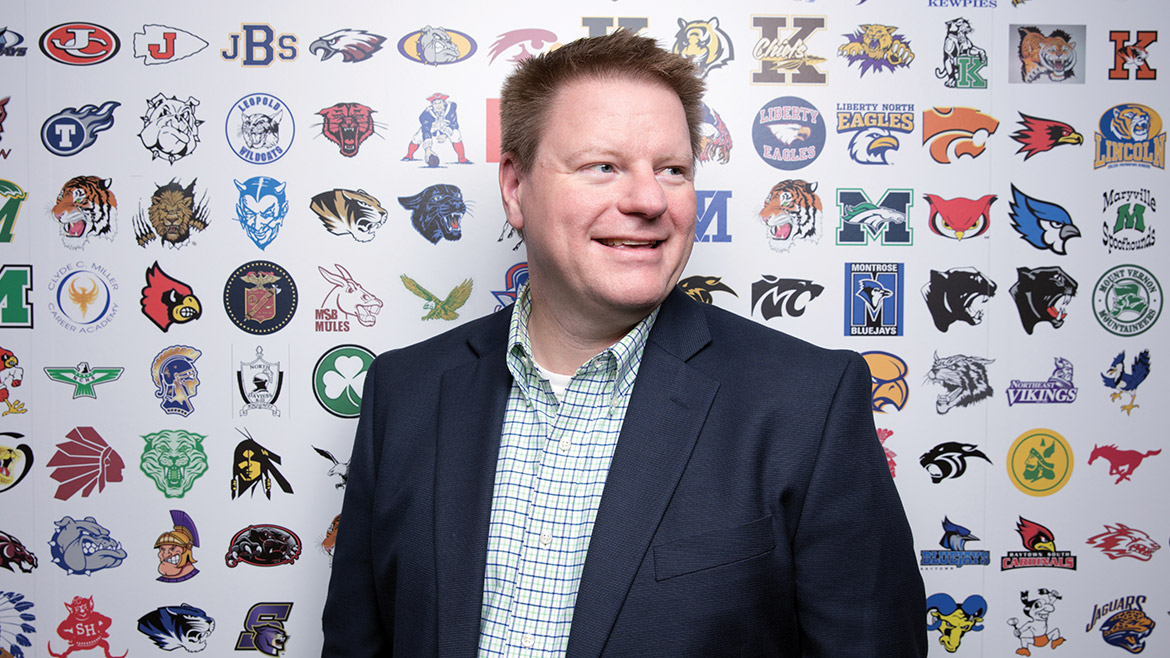 Tracking Concussions
The Youth Sports Brain Injury Prevention Act, which establishes protocols for returning to practice or competition for athletes suspected of sustaining head injuries, became a Missouri law in 2011. It requires MSHSAA to educate coaches, athletes, and parents on the risks of concussions and requires them to publish an annual report assessing the impact of concussions and head injuries on student athletes statewide.
The association creates the report by using the data collected from survey responses gathered from member schools. The survey tracks the number of participants in sports and activities, the number of reported concussions for each, and how many days a participant misses due to a suspected injury.
Only 68 percent of member schools completed the survey in 2018, a decline from an 89 percent in 2016. "We're not getting perfect attendance on that, but we are getting good measurables back from our schools," West says.
Football definitely gets the headlines when it comes to concussions, but the National Federation of State High School Associations notes that the rates of injury in sports like girls' soccer and girls' basketball outnumber their male counterparts.
MSHSAA's report for 2017-2018 reflects those trends. A total of 1,940 boys and 984 girls were held out of practices and contests due to a head injury. Football had the highest reported number of head injuries with 1,185, followed by girls' soccer (337), sideline cheerleading (279), boys' wrestling (257), and girls' basketball (238).
Hickman High School athletics director J.D. Coffman works with the school's head athletic trainer to track the data and complete MSHSAA's survey.
"I don't think concussions were taken as seriously before because there wasn't data to show how high-impact sports and concussions were connected," Coffman says.
MSHSAA also offers concussion insurance to its member schools through its catastrophic insurance provider. It's the third year MSHSAA has provided this option, and Missouri's model also caught the attention of the Illinois High School Association in 2018, according to the Chicago Tribune.
The Columbia Public Schools district purchases the concussion insurance offered by MSHSAA, while roughly 50 percent of MSHSAA members take advantage of other insurance.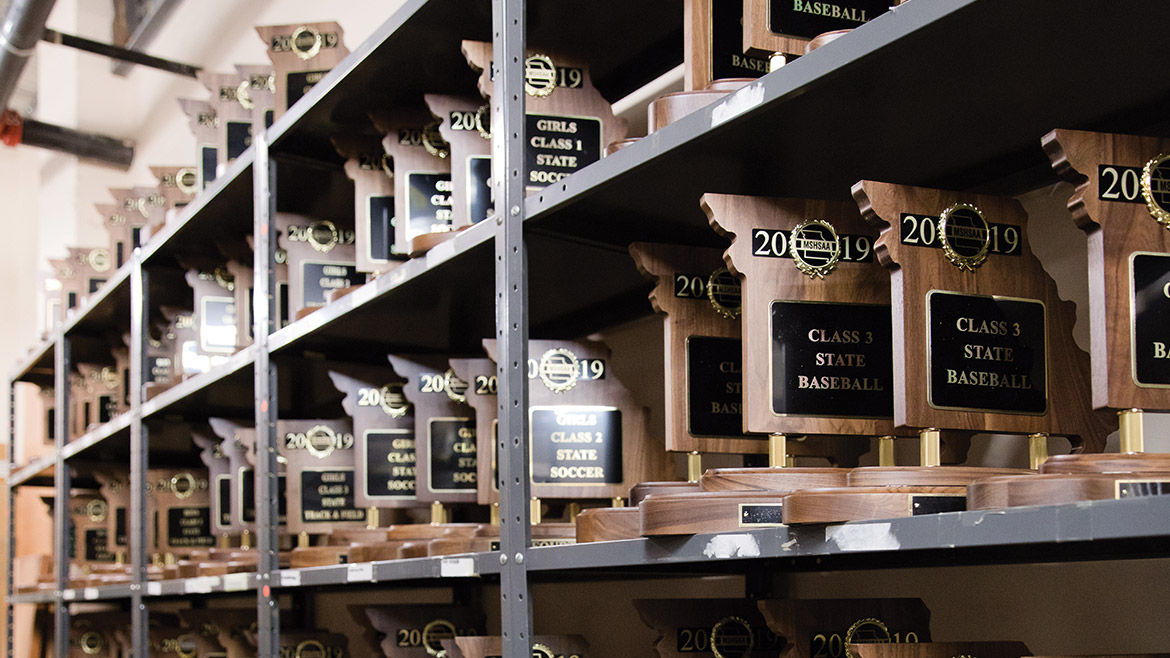 New Initiatives
Every January, MSHSAA traverses the state to host town hall meetings with administrators and athletic directors in its eight regions. These conversations center on big picture items that membership may be voting on that year. It's also a chance to distribute information and receive feedback.
ESports were a hot topic this year. The NFHS launched its inaugural eSports season last fall, opening the door for a state like Missouri to consider adding it to the mix.
West said he sensed some hesitation, mostly centered around the types of games played in eSports, particularly first-person shooting games. But there was plenty of excitement as well. In fact, many schools already have eSports clubs.
Many eSports participants are not typically involved in traditional sports and activities, and a MSHSAA-sanctioned offering would open doors for new students to be a part of a team, represent their school, and experience the other benefits of competition.
"It keeps them engaged, and that has ripple effects," West says.
Coffman agrees: "It's a perfect population to get involved because it showcases some students who wouldn't typically be seen for their talent."
Girls' wrestling is an example of a recently added sport that has boosted participation. The inaugural season had 169 girls on wrestling rosters. That number jumped to 970 in the 2018-2019 season.
Hickman had 12 girls on its team this year, and 11 were first-time wrestlers.
"MSHSAA has done a nice job of listening to the member schools as to what they'd like to see change — for instance, adding girls' wrestling," Coffman says.
This growth caught MSHSAA by surprise. But as with many of its efforts, impact tends to be a byproduct of initiative.
"It's not that we're looking to be innovative," West says. "We're just looking for ways to help our members do their day-to-day jobs, and sometimes innovation happens."
Missouri State High School Activities Association
1 N. Keene St.
573-875-4880
mshsaa.org