Play It Again Sports' owner, Neil Copeland, reflects on 12 years of business.
It was by "pure happenstance" that Neil Copeland purchased Play It Again Sports nearly 12 years ago.

Spending a lot of time at the Columbia Cosmopolitan Recreation Area, Neil drove past the sporting goods store often. One day he stopped in and heard that the owner was thinking of selling, so Neil decided to give him a call.

"I played sports my whole life, but I had never owned a business before," Neil says.

He still doesn't know why he decided to go inside the store that day, much less why he decided to buy the business. "Everybody asks me," he says with a laugh. "I'm not quite sure."

Approaching his 12-year anniversary of the purchase, Neil says running the store for more than a decade has been a crazy ride. "It went fast. I can tell you that," he says. "It seems like the other day we just opened and were scrambling around trying to figure everything out. It's been fun. We've had a good time."

Neil says he had no expectations when he bought the store. He just knew that he wanted to try owning a business and that he loved sports — he felt like this would be a perfect fit.

"I grew up in a small town. We were always used to working, so I knew I could keep up with the work," he says. "I just kind of jumped in."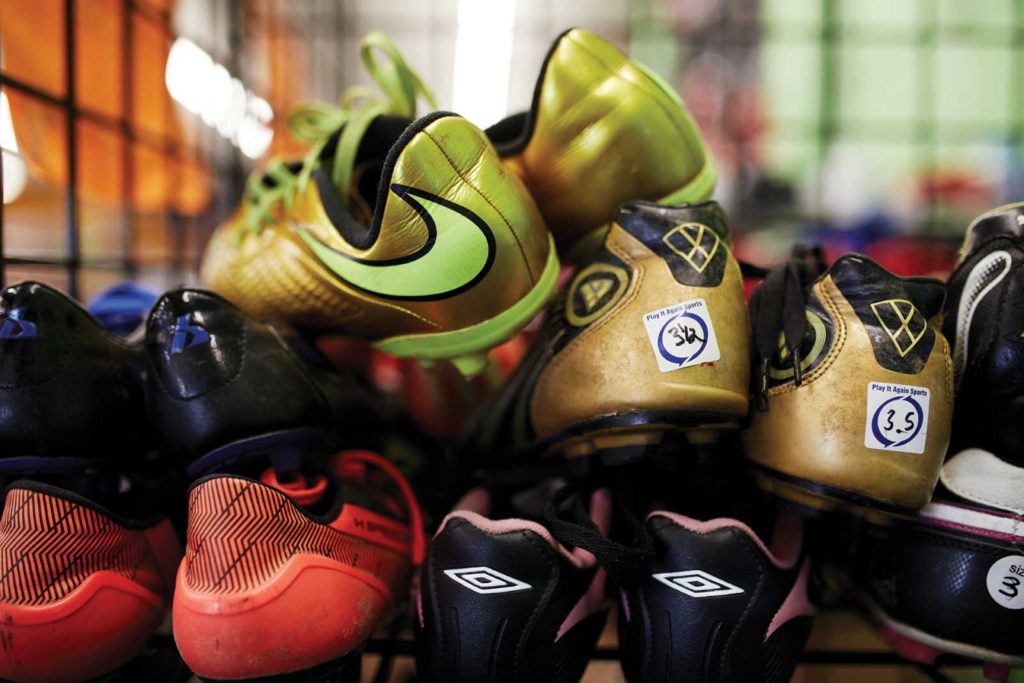 Running a Store Within a Franchise
The sporting goods store is an independently owned franchise with multiple locations across the United States and Canada. Neil says this makes Play It Again Sports different from the bigger sporting goods chains; unlike them, Play It Again Sports doesn't have one set way of running stores.

Each store offers new equipment and sporting gear as well as used products that they buy from customers and resell at a fraction of the original retail price. "The store has always been founded on the principles of buying and selling used equipment that kids have outgrown or no longer need or stop playing with," he says. "We carry a substantial amount of brand-new products now that most people, probably to this day, don't realize that we even have, especially in baseball, softball, and fitness."

Baseball, softball, and fitness are the top three reasons people come to the store. "Baseball and softball have been rock solid," he says. "They've grown every year. Fitness is a little finicky, because it's weather dependent."

In colder, snowier months, sales for indoor fitness equipment will go up while sales for outdoor goods will go down. The opposite, naturally, happens in the summer. The heavy dependence on weather, Neil says, is why he cannot look to another Play It Again Sports location for complete guidance — there's only one Columbia, Missouri. "I can't really draw much from what someone else does in another state," Neil explains.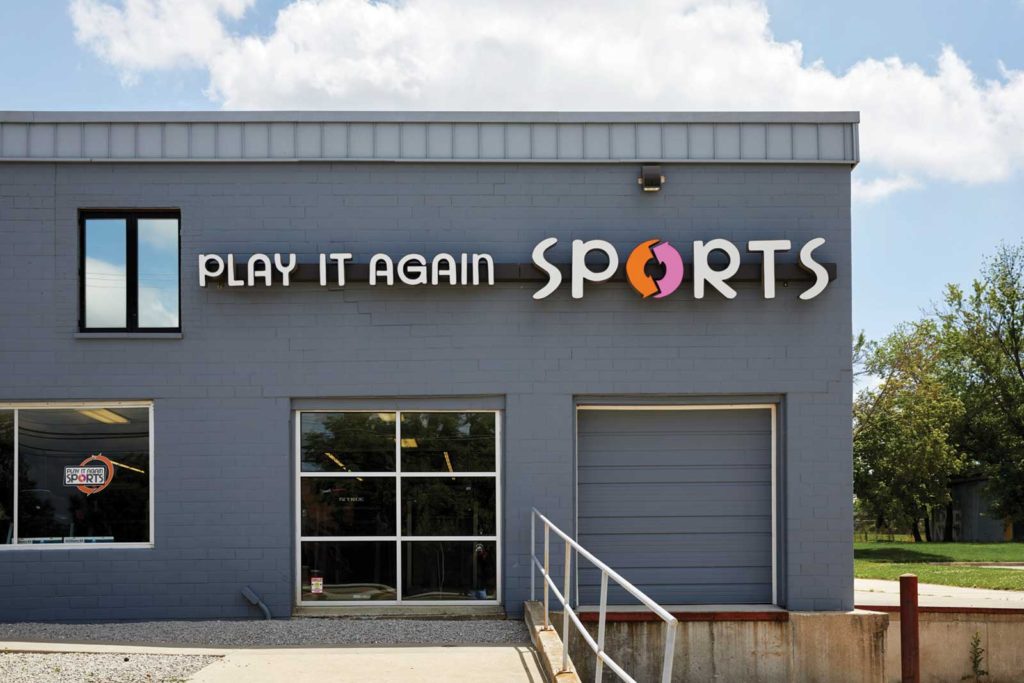 Doing the Job Right
Play It Again Sports has expanded over the past decade, and Neil says that their growth is what he's most proud of. "Retail is a hard business a lot of times," he says. "I'm pretty proud of being able to keep up and grow steadily."

Near the end of 2013, the store was growing larger than its space. By the beginning of 2014, they had relocated to a larger area, just one building away from their former spot. Neil says the move and the three batting cages available at their newer location give them everything they need "to do the job right."

Another high point of pride for Neil is the dedicated staff that works there. "Being able to find those people and get them to work here — I'm happy with that," he says.

The team has grown slightly, from six employees in 2007 to about 10 now, and the number fluctuates depending on who is in or out of school.

Neil and the employees often grow close to their customers, learning their names, their kids' names, and the sports they play. Neil likes to provide a fun environment for his customers. "If it's not fun, it's not worth doing," he says. "We like to have fun, joke around with the customers, befriend them, actually get to know them, figure out who they are, who their kids are."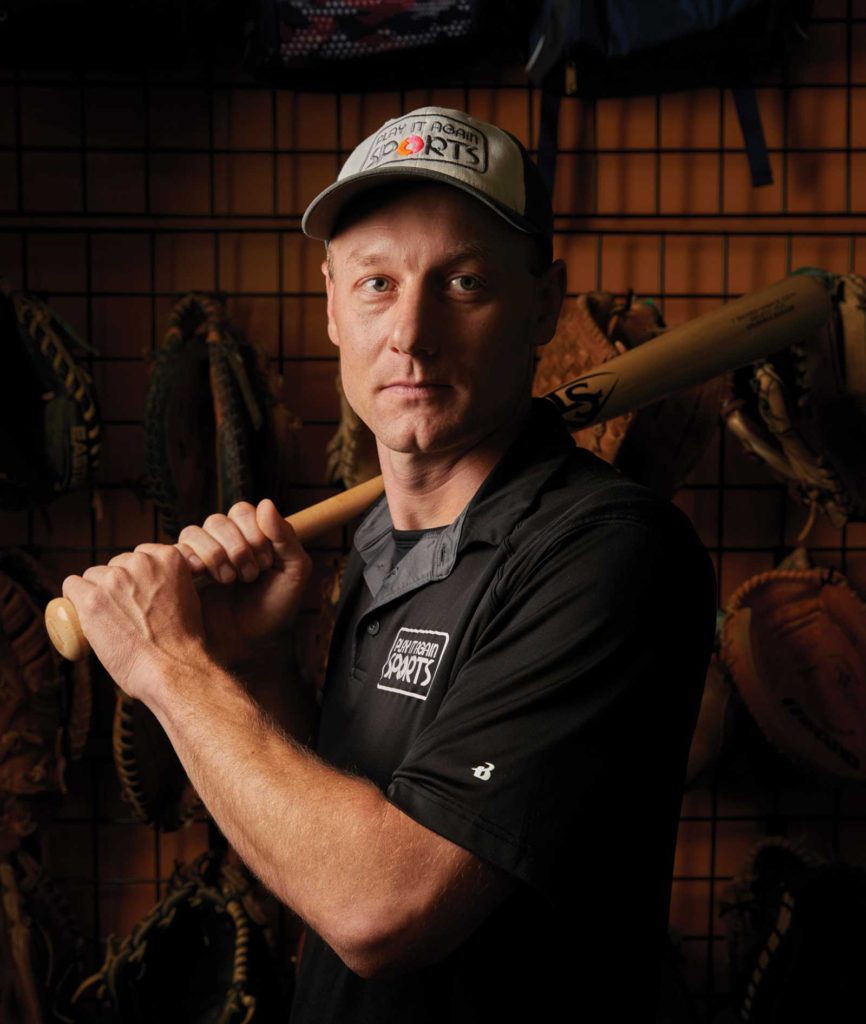 Maintain and Grow
Neil says their philosophy is making sure the customers get what they need and aren't wasting money on products that won't work for them. "We pride ourselves on making sure that when somebody buys something, it fits them and it's right for them," he says. "Essentially what we try to do is help the person well enough that they feel comfortable enough with us and our information that they become our regulars."

Neil says the sporting goods industry in Columbia has been pretty steady over the past 10 years. There are changes in the number of boys and girls that play certain sports each year, but there have not been any new sports introduced to the city. "It hasn't really changed in a functional way that would require changes out of us," Neil says.

He hopes to continue growing the store over the next few years by continuing "to provide good stuff, good quality products, and helping people the best we can," Neil says. He wants to make sure they stick to the core of Play it Again Sports, buying and selling as many used items as possible in a helpful, effective way.

"Retail is ever changing," Neil says, so the store takes things day by day, making sure they keep up with demand and can provide individual customers, teams, or sporting leagues with what they need. "We try to do the best we can with what each day presents," Neil says.
Play It Again Sports
1218 Business Loop 70 W.
573-442-9291
playitagainsports.com/locations/columbia-mo