State Tech grows their female student population with new nursing program and existing curriculum.
Somebody had to be the first, but Ryli Jetton didn't know it would be her. In her last semester at the State Technical College of Missouri in the spring of 2019, Ryli was told she would be the first woman to graduate from the HVAC program. While other women had enrolled, all had either dropped the program or didn't even shown up.

"I was focused on my education and where I was going to go, not what my status was," Ryli says. "I was focused on getting my degree and getting a job and pursuing the rest of my career, but it was a nice surprise."

An hour drive from Columbia, the technical college is located in Linn and offers programs ranging from heavy equipment operations to computer application development. Enrollment has been traditionally a male majority, but in the past few years, the gender gap has started to shrink. In fall 2009, State Tech's student population was 10% female; a decade later, it jumped to 20%. Along with women like Ryli choosing careers in male-dominated fields like HVAC, part of that increase is due to the school's new programs in female-dominated occupations like nursing — the school's registered nurse program launched in January 2019.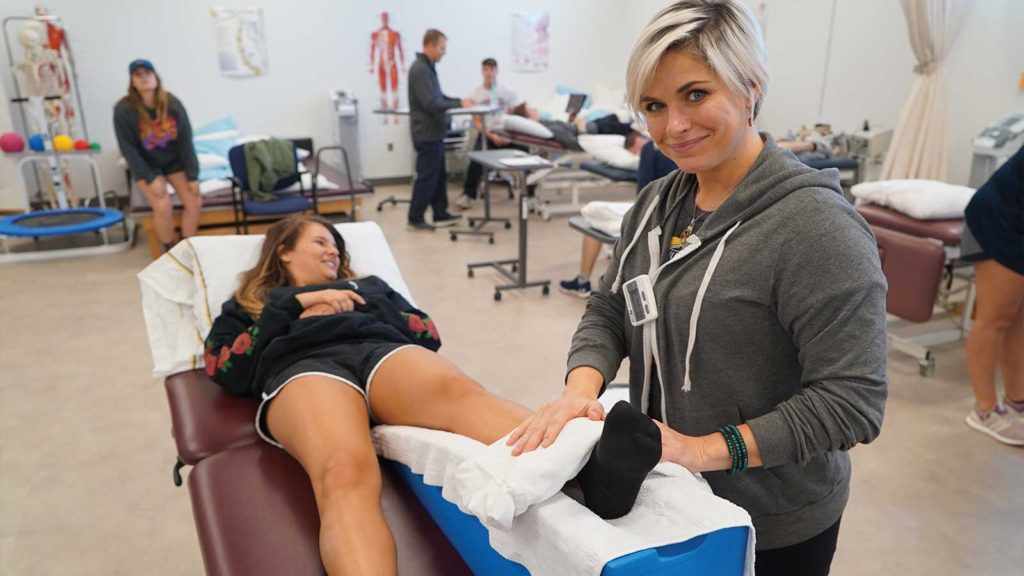 Nursing Program Expansion
Although the RN program launched just over a year ago, it has been in the works since 2017. Linda Claycomb, director of health sciences and department chair of nursing, wrote part of the curriculum and says students had been asking for a program that helped licensed practical nurses, or LPNs, further their education to become registered nurses.

Linda left retirement to help with the new program and says she was happy to do it. "Consumers need the best health care possible as close to them as possible," she says. "People don't have resources usually to move where they can get health care."

There's a need for associate degree nurses in the field, says Chris Bowser, vice president of student affairs. "State Tech does a tremendous job with the LPN program, and they really crank out highly qualified LPNs," Chris says.

In August 2019, the second class of students — 19 women and one man — started the RN program. "It's wonderful to see males and females working side-by-side," Linda says. "We take care of a lot of diverse patients, and we want that diversity represented in our student body."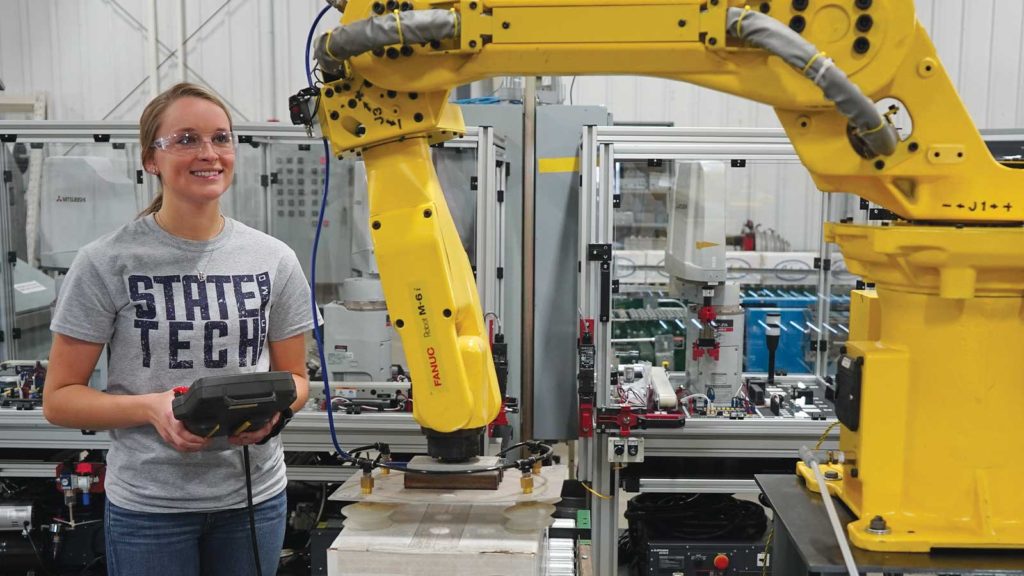 Taking on Male-dominated Fields
While career paths such as the new RN program are beginning to bridge the school's gender gap, more women are taking on male-dominated programs at State Tech.

Emily Unterschutz has always liked to work with her hands. As a kid, she'd help her dad with his lawn mowing business and fix lawn mowers. And when she saw the big price tag of turtle aquariums, Emily decided to make one herself. She looked up articles online and bought some acrylics, sealant, and wood. A bit of hard work later, her pet had a home.

But it wasn't until she started working at a restaurant during high school and a couple years after that she found the right career. Emily started taking note of the HVAC workers coming in and out of the restaurant to service the refrigerators. Her interest was piqued, and Emily started asking questions and helping them out. These workers recommended she go to school if she wanted to do HVAC work, and in August 2019, Emily started at State Tech.

She knew the HVAC industry was male-dominated, but Emily assumed that out of State Tech's class size of 50, around eight or nine would be women. It wasn't until she showed up for the first day that Emily discovered she was one of two women.

Historically, the HVAC industry has been assumed to be only for men, but that's just not the case, says Ben Berhorst, department chair for HVAC and industrial electricity. "The word is finally starting to get out that there's just as much opportunity for females as there is males, and they excel at it just in the same way that a man would," he says.

And the need for hands-on trades is there. "Demand is going through the roof because for some reason, people have gotten away from the ability to use their hands or the want to make a living using their hands," Ben says. "So the people that decide to do it can pretty much pick their price."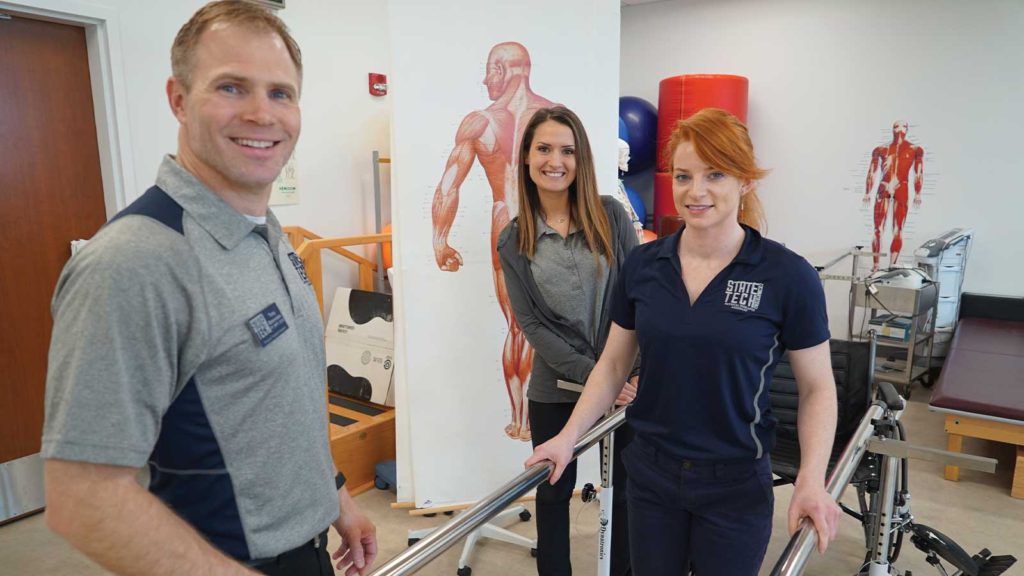 Cultural Shift
With one female graduate and another two on the way, Ben says there seems to be a trend of more women entering the field. When it comes to the HVAC service industry, it takes work ethic and communication skills, not much heavy labor, Ben says. "It doesn't matter if you're male or female," he says. "If you can talk to customers, you're probably going to be alright."

And HVAC isn't the only sector with women entering its workforce. Now on staff with admissions, Ryli says State Tech's welding, automotive, and diesel programs have attracted female students, and it's becoming a normal occurrence because women have been stepping up to follow their passions.

"In the next few years, we're going to have a lot more women on campus, and not only because we have the health science building and the classes that are bringing more females to campus," Ryli says. "Last year we had one girl in HVAC and that was me. This year, we have two. So for the future, we're just gonna keep adding and adding and adding."

Female students compete right alongside their male classmates for these career opportunities, Chris says. "It's becoming more and more commonplace that female students are applying, being accepted, and being successful in all of our academic programs," he says, "and we think that's phenomenal."

"There's been such a progressive cultural shift where it's not as weird to see a woman in construction," Emily says, "especially with all the scholarships and whatnot coming out recently for women in construction."

Women have a lot of potential to pursue in trades, Ryli says. "Women can do a whole lot of things that men can do," she says, "and men can do a whole lot of things that women can do."
State Technical College of Missouri
1 Technology Dr., Linn, MO, 65051
573-897-5000
statetechmo.edu