Luxury retirement community The Village of Bedford Walk offers seniors an extended college experience and seeks to expand across the country.
It was about 60 years ago that Les Neese graduated from MU and married his college sweetheart, Diane. After graduation, he moved around several times for his job and had two kids. But in August 2016, he and his wife chose to retire in their college town at The Village of Bedford Walk.

Opened in 2016, this luxury retirement community offers 88 units of both villa and apartment living for seniors ages 55 and older. Residents pay one monthly rental fee for everything: rent, one meal per day, concierge services, utilities, recreational fees, private transportation, maintenance, trash service, cable, internet, and telephone.

In 1984, Boone County native Jeffrey Smith started JES Holdings in Columbia, a development company with several child companies, one being JES Prime Senior Living. The JES Holdings family of companies has hundreds of properties in multiple states. JES Prime Senior Living opened Bedford Walk as its flagship property, and currently around 76 residents live there.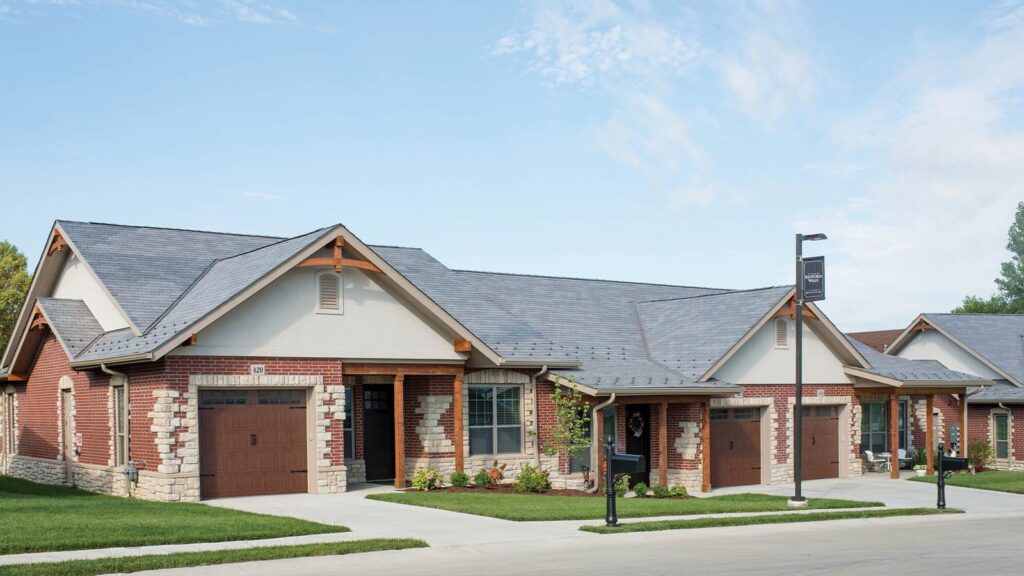 Social Scene
Marketing specialist Mason Neff calls this community the "Ritz Carlton of senior living."

"I always joke to the residents and people that it's college living for just a little older college kid," he says. Similar to the college lifestyle, The Village of Bedford Walk has plenty of activities to choose from: tai chi, water aerobics, trips to Walmart, social hour with apps and drinks, poker, bridge, and more.

Although the property plans and hosts many of these events, they also let the seniors take charge. "The residents do take an ownership in a lot of our activities as well, which I think is really great," Mason says, "because it gives people a sense of, 'Hey, you know, I can get some of my friends in the community to do this thing and maybe get more residents involved.'"

When Laura Roeder interviewed for the activity coordinator position at The Village of Bedford Walk, she explained that she wanted to bring socialization, fitness, mental health, and education to the residents. In her interview, Laura tossed out the idea of a cruise-themed week, where residents would "visit" different ports in different countries.

In 2016, Laura was hired, and immediately she had to start planning the Cruise Ship Week, which has become a staple event. Each summer, they kick off the week with a themed party where they dress up in island attire and play music. Each day's theme corresponds to a different "port." Residents eat a lunch inspired by that country, learn languages, and study up on historical information. For example, one year they "visited" London and had afternoon tea; on their Hong Kong day, they visited a Chinese art gallery in St. Louis, and on their Italy day, they decorated wine glasses.

Each year, the staff and residents finish out the week with a Captain's Cocktails event. "We just have the biggest celebration where it's just all of us together, and we talk about what's going on that week and we dance and we eat and we drink," Laura says. "It is the most amazing night ever. It's my absolute favorite night of the entire year."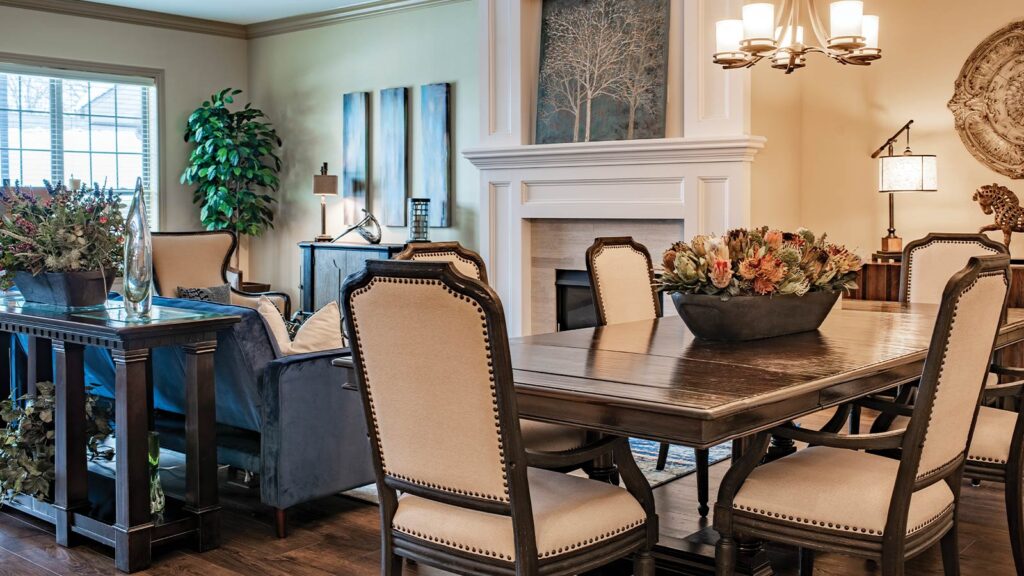 Life Made Easy
Les appreciates the simplicity of life at Bedford Walk; he doesn't have to mow the lawn, shovel snow, or clean gutters. "I write three checks a month: one for the rent, one for my cell phone, and one for my credit card," he says. "It makes life really easy all the way around."

Mason says they want their seniors to be active and "to age in place." Although this is an independent living facility, this property has on-site physical and occupational therapy services through its contract with Legacy Healthcare Services.

Social events have had to take a pause due to the coronavirus, but Les says the staff has done a "sterling job" amidst the chaos. "They really have done a lot for us and continue to do a lot for us through this little event that we're having now with the coronavirus," he says. "They've established great protocols for what to be done and they've kept us separate sometimes in spite of ourselves."

Lewis Kelley, executive director for JES Prime Senior Living, says they've made changes in their protocol due to this virus outbreak. At The Village of Bedford Walk, they've restricted access to the pool, dining room, and other common areas, Lewis says. "We've really tried to focus on safety and having them stay inside their apartments as much as possible for everybody's sake," he says. "We haven't had any, any, any problems, and residents have been very cooperative."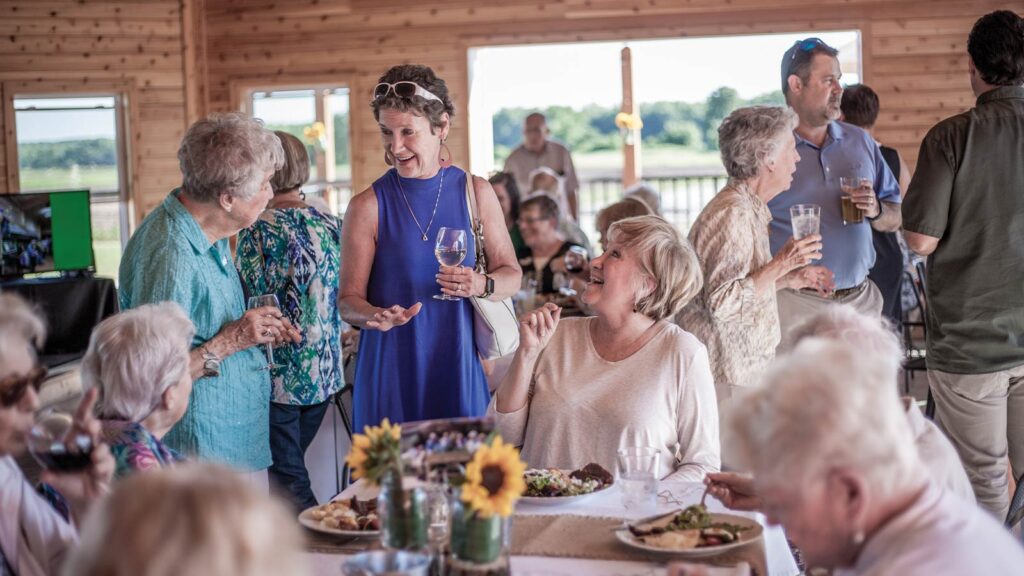 Graduated Growth
Looking toward the future, Lewis says they hope to lease the remaining 20% of units. About a year ago, they restructured and took their marketing in house in hopes of building a fuller property. And Lewis says it's working: Now they're able to have more control over new leads and keep tabs on how potential residents discovered the community, be it from Facebook or a TV ad.

"(We're) definitely on the right track, and there's no reason not to be because, I admit, I'm partial," Lewis says, "but I do believe that the Bedford is certainly the classiest and nicest place in Columbia, hands down."

He says they're also planning to build in the college town of Gainesville, Florida, with the Columbia property as a model. "The idea originally was to build a sister property to sort of mirror The Village of Bedford Walk in Columbia and do one at their Sable Oaks property in Florida," he says. Although the coronavirus has affected the timeline, Lewis says they plan to continue building, developing, and operating more properties.

For Laura, the future is simple: keep creating a space for seniors to live the lives they want and continue to evaluate the needs of the residents. "I have a feeling they're going to keep moving in and keep getting comfortable and keep acting like these teenagers that are going to wear us out," she says with a laugh. "They're going to give us a run for our money here."
The Village of Bedford Walk
415 Bailey Dr.
573-303-7252
thevillageofbedfordwalk.com