How the Goodwill Excel Center gives adults a second chance at education.
Half a million Missourians do not have a high school education. Unexpected pregnancies, sicknesses in the family, financial difficulties, or a variety of other reasons push thousands of high schoolers forego their education.
As these teenagers move into adulthood, the lack of a degree often puts them behind the curve in the employment market and makes it harder or impossible to pick up a college education. In Columbia, the Goodwill Excel Center is fighting to give adults without a high school degree a second chance at their education.
The Goodwill Excel Center is a free high school for adults for ages 21 and up, and the organization has branches in St. Louis, Poplar Bluffs, and Springfield. Recently, a local branch opened in the former Columbia Daily Tribune building in downtown. Already, the building has gotten a refresh.
Mark Arens, a Goodwill Excel Center executive, says, "The Tribune building is very much an iconic building in Columbia, so I think it is neat how that space has been transformed to look almost like a college setting."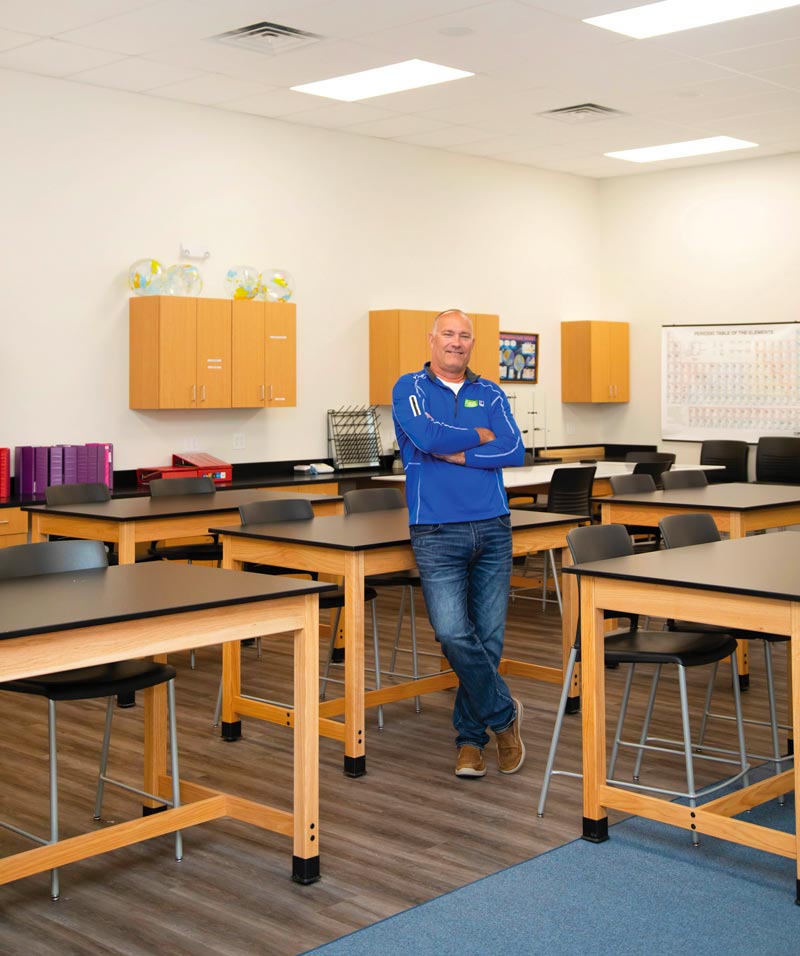 Mike Reynolds, a retired public administrator and school director at the Goodwill Excel Center, adds: "We have six full-sized classes, a full-sized cafeteria, a science lab, Google Chromebooks, and a Chromebook call. Each of our students has their own lanyards. They feel like it's a second home, and if they arrive early, we have a cafeteria where they can study."
A Program Fit For Every Student
This college setting helps adults get high school diplomas even after their teenage years are over. On top of this, the Goodwill Excel Center makes sure adults can fit their education into their busy work lives.
Mike says: "Our life coaches motivate students and encourage them to stick with each one of their classes. If they're eligible, we can reimburse [students] for bus passes. We provide a free daycare on site for our students. We offer a certified preschool program. Our goal is to prevent as many roadblocks as possible from a student earning their high school diploma."
The Goodwill Excel Center's program is even willing to meet students at their individual academic points. Whatever a student's academic background is, the Goodwill Excel Center's program identifies the level the student needs to start at to be successful.
"Many [adults] need to go back and refresh skills that may have atrophied over the years. We do have a curriculum to refresh people up," Mark says.
For students who may not need a refresher, the Goodwill Excel Center's program also allows students to complete only the academics they didn't finish in high school.
Mark explains that "each one of [our] students is on a different path. We may have someone that only need[s] one or two classes. . . . It depends on what [a student's] high school transcript looks like. The goal is to give every student that coveted high school diploma."
Early Success
Already, the Goodwill Excel Center has achieved pleasing results. At their most recent graduation, 600 people filled the auditorium to watch 65 graduates walk across the stage and receive their high school diplomas.
Mark says the program has "graduated 149 individuals total, including 45 that graduated in March."
Though this number may not seem like much, it is significant considering that Columbia's Goodwill Excel Center branch has only been open since January of this year, and the entire program only started in October 2018.
For the Columbia community, the Goodwill Excel Center's success means many positive things for the local economy and Columbians looking to support their families better.
"[The Excel Center] is an opportunity to reduce unemployment," Mike explains. "I think it's a win-win. It's an opportunity that doesn't necessarily cost the taxpayers of Columbia anything, and each of our students has the chance to be a better citizen and contribute to society."
Mark adds: "Our goal is to remediate poverty and get people in the workforce. Our goal is certainly graduation, but our overarching goal is for that person to graduate and be at that thirteen [or] fourteen dollars an hour mark and be able to support their family."
However, the Goodwill Excel Center understands that sometimes returning to the classroom can be a daunting challenge. While the education is free, sometimes students come from backgrounds that make it difficult for them to re-enter high school.
"What [students] are doing takes courage," Mike says. "It's very brave to step into the classroom when you've been out for 30 or 40 years. I celebrate that fact, and we encourage them to get that high school diploma."
Even after students receive high school diplomas, the Goodwill Excel Center's volunteers work hard on encouraging students toward college or better jobs.
As Mike says, the Goodwill Excel Center thoroughly follows their motto of offering "a hand-up, not a handout."
Goodwill Excel Center
101 N. Fourth St.
573-499-1220
mersgoodwill.org
1902
Goodwill is founded in Boston.
1915
Goodwill adopts the name Goodwill Industries.
1918
Missouri Goodwill is established.
2001
Metropolitan Employment and Rehabilitation Service and Missouri Goodwill Industries merged to form MERS Missouri Goodwill Industries.
2018
Goodwill Excel Center program is launched in Missouri.
2020
Goodwill Excel Center program is launched in Columbia.