For more than three decades, Regional Economic Development Inc. has been working quietly to grow economic opportunities that propel residents upward.
I
f you have only a passing familiarity with Regional Economic Development Inc., or REDI, in Columbia, you may think the organization is all about big business. But what's at the heart of REDI's mission is supporting the upward economic mobility of the people who live in Columbia and Boone County, helping the whole region maintaining a great quality of life.
A nonprofit organization, REDI is funded by a combination of public and private investments, including the City of Columbia, Boone County, MU and other educational institutions, regional and state economic development agencies, and nearly 100 local businesses and municipalities. REDI's mission is to help create opportunities that support their three strategic priorities: attracting new business and industry, retaining existing companies and helping them expand, and supporting entrepreneurship.
REDI doesn't provide funding for startups or business expansion. It doesn't offer tax incentives or loans. REDI is synergistic, facilitating collaborative efforts to attract and expand business and bolster entrepreneurship.
If this all sounds a little vague, or even complicated, it's because REDI does nothing routine. Instead, it pivots as needed — that could mean responding to requests for information from companies looking for new locations, or coaching local businesses seeking ways to grow, or helping entrepreneurs, new and established, find resources to support their startups.
Perhaps the best way to explain what REDI does is to talk about what it's done lately.
"Even after 30 years, there's still an opportunity for us to tell our story, to talk about all of our accomplishments," says Stacey Button, president of REDI.
Provide a Safe Space for Entrepreneurs
By nature, entrepreneurs are self-confident, tenacious, and adaptable. But as noted in a 2019 survey by Kabbage, 28% to 35% of them admit to having little experience in financing, bookkeeping, compliance, and marketing when they're starting a business.
Enter REDI: offering coaching, counseling, and consulting to help entrepreneurs succeed.
"We focus on the entrepreneur themselves — the person," says Stacey. "We try to provide all the services that an entrepreneur would need to be successful in their endeavor. If we can help grow the individual, we build a strong community and ecosystem of entrepreneurs," she says.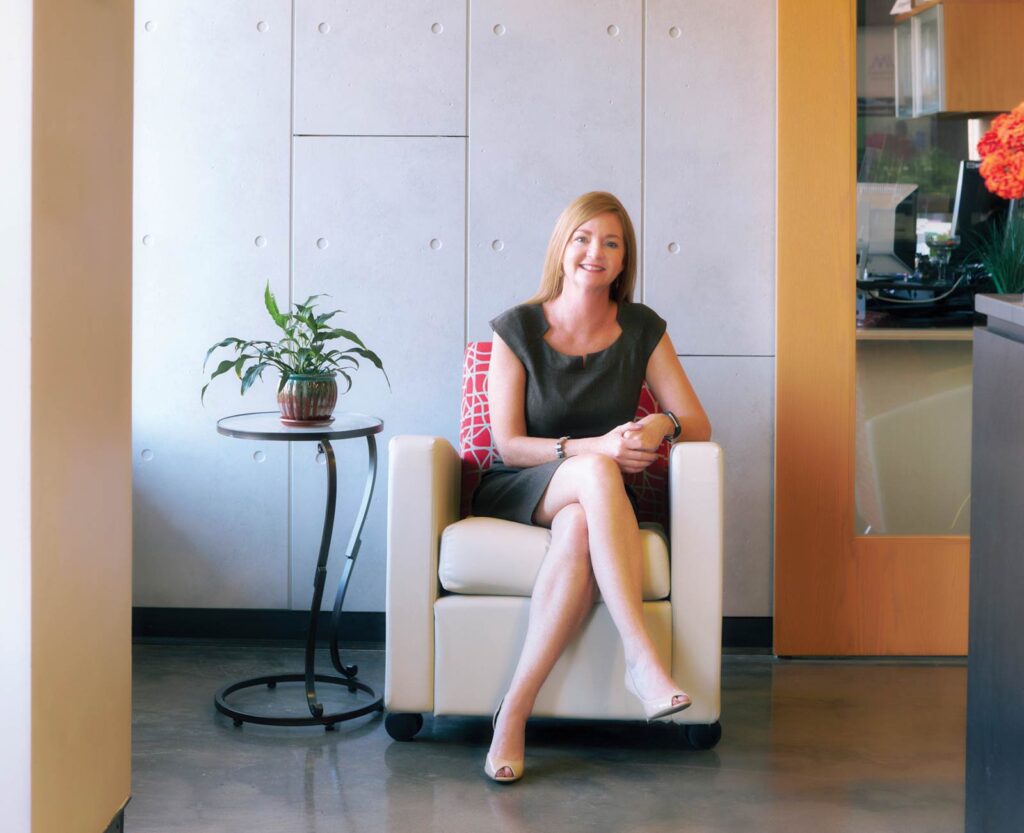 "Even after 30 years, there's still an opportunity for us to tell our story, to talk about all of our accomplishments."

— Stacey Button, president of REDI
In addition to programming, REDI offers the Innovation Hub, a space in downtown Columbia where entrepreneurs can share ideas, mentor one another, meet with clients, share office technology, and even use the Walnut Street location as their business mailing address. Entrepreneurs have access to REDI staff, including Jean Nicklas, communications manager, whose background is in marketing, and Bernie Andrews, executive vice president, whose manufacturing contacts are invaluable for product entrepreneurs. The building also houses the Small Business Administration office, the Missouri Women's Business Center, the Missouri Procurement Technical Assistance Center, and the City of Columbia Supplier Diversity Program, providing entrepreneurs easy access to those services.
This fall, REDI and The Loop community improvement district opened COMO Cooks in a space at Mizzou North space. COMO Cooks offers a commercial kitchen to local food entrepreneurs and farmers while bolstering business growth on The Loop.
Help Existing Local Businesses Grow
REDI is dedicated to helping established businesses grow, and those companies are usually competing with other branch locations throughout the country when they do.
"It's much easier for existing companies to expand and add jobs than it is to attract new ones," Bernie says. "We want them to grow here. Most of our businesses — especially our manufacturing firms — have been here long term."
REDI helped existing companies, like Kraft Heinz and Dana Light Axle, obtain Chapter 100 tax abatements so they could expand plants and employ more people. Other companies, such as 3M, weren't looking for tax incentives when they knocked on REDI's door. They needed a workforce with the skills needed in automated manufacturing. So REDI pulled together 3M, other local plants, and Moberly Area Community College to develop the mechatronics associate degree program. The program trains students to be electrical and mechanical technicians who can keep automated plants up and running.
Attract New Businesses that Fit the Community
Most of REDI's leads for new business and industry come from the Missouri Partnership, a public-private economic development organization that attracts companies to Missouri. REDI also works directly with companies and brokers and via referrals from MU. While REDI targets companies in advanced manufacturing, bioscience, health sciences and services, IT and data, and financial professional services, it's the company's willingness to be a good corporate citizen that is the key factor.
"We want to target companies that are going to pay above the Boone County average wage," Bernie says. "We want companies that are going to come in and raise the bar and provide good, living-wage jobs to people."
Competition is fierce. A case in point is Aurora Organic Dairy, which opened a processing and distribution plant in Columbia in 2019. Aurora's $150 million investment over two phases is the largest ever for the Missouri Partnership.
American Outdoor Brands is another recent success, opening a 630,000 square foot distribution center that provides both warehouse and administrative jobs. That was after the company looked at 85 other sites in 10 different states.
"Projects like these bring a lot of good-paying jobs with them," Bernie says. "Communities are very competitive because they want those types of projects located in their community."
Facilitate Pandemic Pivots
REDI isn't the only Boone County organization prepared to pivot when needed.
"There have been a few companies that have been able to make some pivots and provide PPE [personal protective equipment]," Stacey says. "REDI helped connect these companies that have an interest in being a source for PPE during this pandemic with the Missouri Department of Economic Development."
REDI also facilitated collaboration between the Department of Economic Development, the Missouri Department of Health and Senior Services, and area companies to make workplace changes designed to keep employees safe in a COVID-19 world.
"REDI is about partnerships and making those connections and providing resources," Stacey says.
That's what REDI does in its relentless pursuit of opportunities for upward economic mobility for local residents — pandemic or not.
Regional Economic Development Inc.
500 E. Walnut St. Ste. 102
573-442-8303