Gracie Barra Jiu-Jitsu is making its way to Columbia to offer the community a family-friendly experience.
"I actually never wanted to do [jiu-jitsu]," Oly Warner, owner of Gracie Barra Jiu-Jitsu, remembers. She was introduced to the martial art by her husband, who spent his days working for the Northeast Narcotics Task Force in Hannibal, Missouri, and started practicing Jiu-Jitsu as a way to defend himself without the use of deadly force. And after his first class, when he got "choked out by a teenager," he decided to continue practicing to sharpen his skills.
"When we got married, he wanted to open [Gracie Barra Jiu-Jitsu], which we did in Jefferson City," Oly says. "I wanted to do it — I figured if it was our school and I was telling people to do it, then I should be doing it, too." The couple opened the Jefferson City school in 2017. Now, three years later, Oly has found herself addicted to the art of jiu-jitsu, so much so that the couple has opened a second school right here in Columbia.
Breaking It Down
Jiu-jitsu, as Oly explains, is a martial art that focuses on grappling or submissions without striking or blows. "We have students that practice jiu-jitsu for weight loss, we have some that do it for self-defense, and we have students that do it just to stay active," Oly says. And now, as the cold, crisp air greets us, Oly explains that the school's numbers are growing as families and students try to find new ways to stay active during the winter.
Gracie Barra Jiu-Jitsu is a martial arts organization with schools all around the world. Each school practices the same warm-ups and the same techniques. "If you're a member of one of us, you're a member of all of us," Oly explains, "So you can visit any school and be welcomed as part of the team as if you trained there your whole life."
Each class starts with a warm-up session, which can either include standard exercises like push-ups or more jiu-jitsu-focused movements like "shrimping," which is also referred to as "hip escapes." After warm-ups, the lesson moves on to practice a self-defense technique. Then, the class begins working on techniques that are more grounded in jiu-jitsu fighting. "These can be something like switching positions or submissions, too," Oly explains. Classes are similar from day to day so each student knows what to expect when they come to class.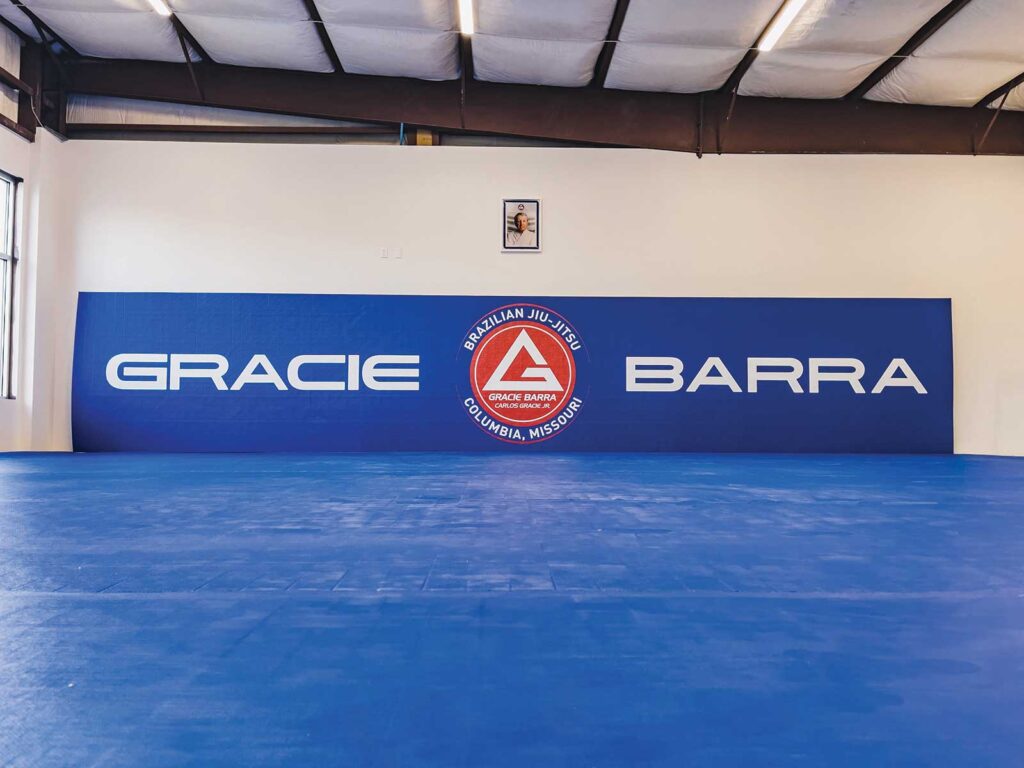 Gracie Barra Jiu-Jitsu is for anyone that wants to learn. The school begins teaching students as young as 4 years old.
The Journey to Columbia
When the couple opened their first school in Jefferson City, they saw the benefits it would bring to themselves and what it could do for other people. There were no other jiu-jitsu schools in the city at the time, and the Gracie Barra family was growing. (The organization now has 700 schools across the country.) "[Gracie Barra] has a great program and support network for any team member hoping to open their own school," Oly explains. With all of this, the couple knew it was the right time and the right place to open their own school.
As jiu-jitsu grew, the couple noticed that the people of Mid-Missouri had a demand for new martial arts. This area was ready to explore something new, something different than karate. "Although Columbia had a couple of other jiu-jitsu schools, we saw a potential for more growth within the sport and wanted to expand our Jefferson City team. We strive to provide the same family-friendly atmosphere in COMO as we have in Jefferson City," Oly explains.
With the expansion to Columbia, Oly can now expand their team, and now, she and her husband can each be in charge of their own school.
Ahead of the Game
It's no surprise that the COVID pandemic has changed what "normal" looks like for the business, but Gracie Barra Jiu-Jitsu has actually been ahead of the game. "Our regional and national directors have always been providing guidance and tips [regarding COVID]," Oly explains, "So we haven't seen as many of the school closures as other health and fitness gyms have because we've provided students ways to stay training."
Gracie Barra has been there for its students throughout all of the pandemic stress. The school has provided a piece of normalcy in a not-so-normal time by offering Zoom classes during the times in which classes typically meet. After the community began opening back up, the school shifted to limited training where the instructors trained with families, and now, students are back at the school working on their techniques with a limited number of partners. "We've tried to stay ahead of the game and train the best as we can while keeping safety in mind," Oly says. "It's still a contact sport, but we can still limit contact, or practice with the people we're already in contact with."
At the end of the day, it really is all about striving to have a family-friendly atmosphere for Gracie Barra Jiu-Jitsu. It's a safe environment to learn, to grow, and to connect as a family. "For the kids, it brings them self-confidence," Oly says. "They grow so much from doing the martial art itself."
Gracie Barra Jiu-Jitsu
128 E. Nifong, Ste. E
573-397-8786
graciebarra.com/columbia-mo/