Columbia Chamber of Commerce President and CEO Matt McCormick reflects on the past year and what the chamber is focusing on moving forward.
The COVID-19 pandemic has wreaked havoc on everyone's lives in one way or another. One of the groups that has shouldered many hardships has been our business community. With capacity restrictions and other health guidelines in place to keep our community safe, doing business has become more complicated.
Fortunately, the recent vaccine rollouts have brought hope that normalcy might be on the horizon. In fact, the business community's outlook is bright. At the Columbia Chamber of Commerce's 2021 Economic Outlook Conference, Governor Mike Parson even praised Columbia as being one of the few growing metro areas in the state.
"The state of business in Columbia is optimistic," says Matt McCormick, president and CEO of the Columbia Chamber of Commerce. "While there have been and will be undeniable struggles within our business community, our region has withstood the pandemic crisis better than many. We are seeing businesses open in Columbia."
The Roadmap to Reopening
At its core, the chamber works to serve as a champion for business, a convener of inclusive collaboration, and a catalyst for a thriving community.
"Throughout the pandemic, our mission has been to intensely advocate for our businesses while ensuring that they were informed," says Matt.
The chamber has always acted as the voice of business when collaborating with the City and other community partners. With around 80% of members being smaller businesses with fewer than 25 employees, the chamber has an immense responsibility to ensure small business' voices are heard.
During the height of the pandemic crisis, the chamber staff surveyed and called its almost 1,000 members twice to do wellness checks, ensure members knew about financial relief opportunities, and directly hear the needs of the business community.
To communicate those needs, the chamber has been collaborating with stakeholder groups representing a number of industries, including construction and hospitality, when advocating to the city.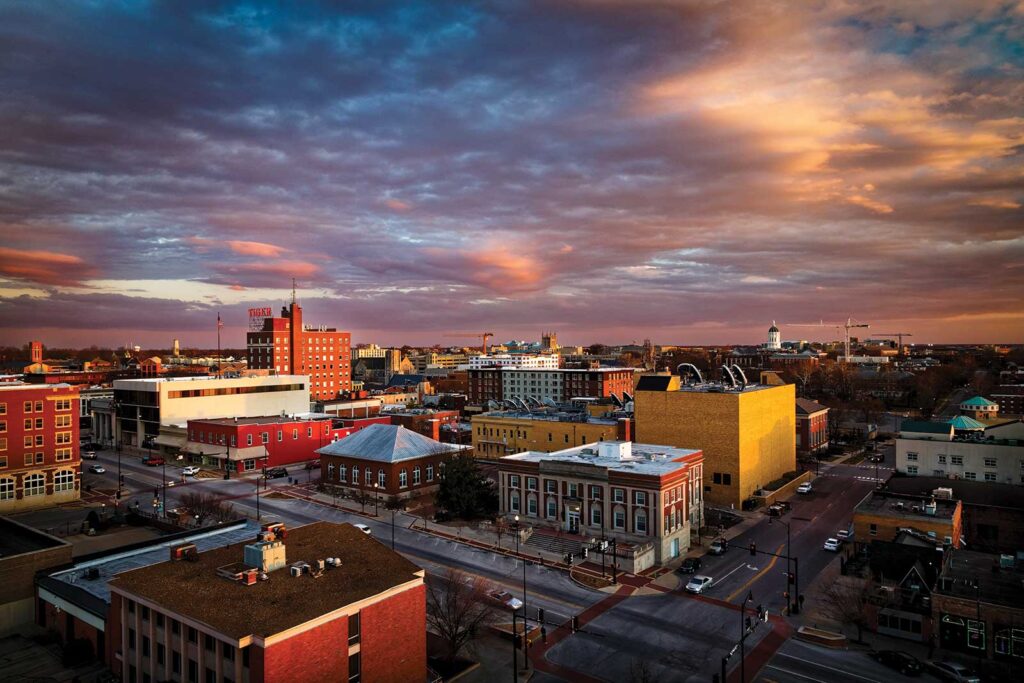 In mid-February, the chamber was grateful to see its collaboration result in a meaningful step forward on the Roadmap to Reopening when the city rolled back the operating hours restrictions placed on bars, restaurants, and entertainment venues. (The previous restriction forced such businesses to close at 10:30 p.m., and the rollboack permitted them to stay open until midnight.)
This decision was made based on data showing that the number of positive COVID-19 cases had decreased and that the weekly percent increase in total cases has been on the decline for four straight weeks. The move also showed confidence in the business community to maintain safety measurements.
"We have spent a number of years building partnerships, relationships, and coalitions to advocate for the business community," says Matt. "During COVID, our goal has been to capitalize on those relationships and partnerships and not be divisive so we can represent and support the businesses of Columbia and their struggles. We must continue to push and move forward for the future and health of the business climate."
Next Steps
"I will never stop being impressed by our community's resilience and willingness to collaborate during the height of the pandemic and how that continues today," says Matt. "We are channeling that energy of convening and collaboration into our new chamber initiatives."
The initiative Matt is talking about is ensuring a thriving business community today and tomorrow. The chamber's new Workforce Development Division will be a big part of that.
"The goal is not to duplicate what is being done already in workforce development, but to collaborate and capitalize on what's being accomplished," he says. "Columbia needs a convener to help push our community forward. We are proud to fill that role."
The chamber is also leading the charge to improve our community's infrastructure and broadband. Both projects have taken a front focus for the chamber, and proponents have made major progress in the first few months of 2021 through regional support.
While the future flickers with optimism and promise, the business community is still in need of support today and throughout the economic recovery process.
"When people ask me, 'How can I show support to local businesses?' I say, 'Shop locally,'" says Matt. "Buy gift cards and takeout, shop at stores that are located in Columbia. If you must shop online, you can still shop at our local stores online."
Matt emphasized the importance of thinking holistically when supporting local business. Shopping local can extend to your bank, lawyer, payroll companies, and dozens of other services.
Supporting a local business gives back to your community three-fold. A local business employs your neighbors; feeds your local tax revenue, which helps the city afford amenities such as parks and infrastructure; and fills a void of service to the community.
"We're going to make it out of this trying season," says Matt, "and we're going to come out of it stronger, but only with the continued support of the business community and community as a whole."