Wil Reeves and the Centro Cellar Studio continue to nurture Columbia's music scene.
Curiosity may be lethal to cats, but not to the curious engineer with a passion for music.
Wil Reeves, 43, is the owner and operator of local recording studio Centro Cellar Studio. He serendipitously discovered a passion for sound engineering and production back in the early 2000s and has never looked back. Now, he's making his own music and helping other local artists share their work with the world.
Getting Stuck on the Sound
Wil got into the recording business like many of those in the music world did — he was in a band in college. He and his friends were working on recording an album in between their academic commitments when they realized they were a little clueless on how the recording process actually worked. Wil, who was working his way to earning an engineering degree at the time, agreed to learn the basics of recording if his bandmates would chip in for the equipment. Once the gear was purchased, Wil was hooked.
"I just kind of fell in love with the process," Wil says. "I basically locked myself in my basement for the next few years to experiment and learn all the information I could."
The more he learned, the better he listened. He would retrace the sonic steps of tracks to figure out how to get from point A to point B: raw sound to recorded music. Once he started recording albums for his own bands, his friends in the music community wanted to know if they could get in on the action. Wil was happy to oblige and began recording tracks for multiple artists and bands.
The house he shared with his bandmates on El Centro Street soon became pulsing with musical activity. His kitchen and living room became his office — household spaces serving as makeshift sound booths. The basement, or "cellar," was no exception, and the Centro Cellar Studio was born.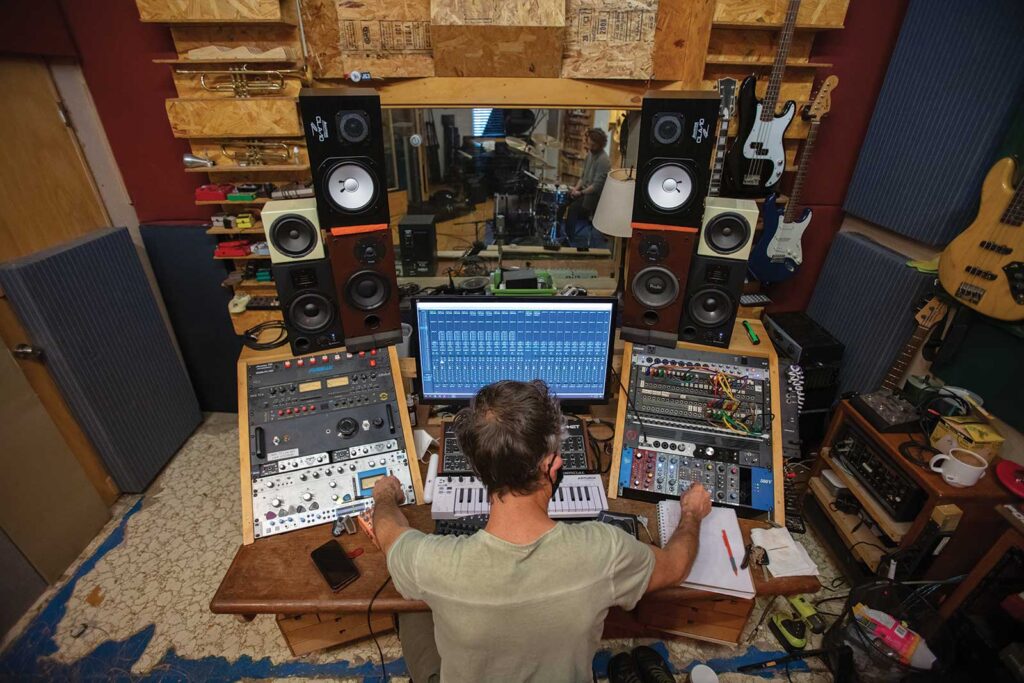 Enjoying the Act of Making
These days, Wil is in a new location on Austin Avenue in a studio that musicians built – literally — from the ground up. Wil and his friends turned what was once a discarded shed into the reputable recording studio it is today.
Wil describes the space as casual and relaxed, a good fit for those at the beginning of their recording experience or veterans of the recording process, no matter their style of music. Wil wears many hats at the studio, but above all, he wants to make sure to capture a sound that the artist feels is true to their musical vision.
Lately, CCS has continued to work with over 150 artists and bands, and even people looking to record voiceovers and audiobooks. Wil has even branched into some remote recording, which has come in handy during the pandemic. It isn't the first time Wil has gone outside the traditional sound booth — he also partners with the local production company Tiny Attic to do live recordings. Once they've completed the shoot, Wil goes in and makes a multitrack edit of the recording for them to put out on the web.
One of Wil's favorite aspects of the Columbia music scene is that a lot of people are in it for the artistic guts rather than the glory. At the end of the day, they just want to create something, a notion Wil respects and relates to.
"The people that I work with are making music for the art of it, not necessarily to be in the top 40," Wil says. "They have ideas in their head and want to bring them to life, and they enjoy the act of making. A lot of musicians in Columbia want to be a part of that, and for me, that's the joy."
Capturing the Collaboration
Even though a huge part of Wil's life is helping others produce their music, he still loves jamming out himself. He plays guitar and bass, and he has been in multiple bands, including the group Bockman. He has his own solo project, titled Penny Marvel. Once he started having kids, his schedule became fuller, leaving less time for live performances, but he has found a new way to work on his musical projects through some solo time in the studio. He just put out a new single in December titled "Stony Rill," which you can stream on Spotify or Apple Music.
"I still love performing and playing out live, but I only do it a few times a year now," Wil says. "I think I'm more of a studio projects kind of guy. I like using it as an instrument itself and creating songs that way."
Wil is dedicated to giving his all to every artist, whether it's himself or one of his many friends in the Columbia area. It's all about collaboration and a creative mindset — and wanting to work together to create something great.
"I feel fortunate that people come in and feel comfortable here," Wil says. "I built it all myself with the help of friends along the way. So, as a collaboration, it certainly has a sort of DIY element that puts people into a creative mode."
Centro Cellar Studio
15 Austin Ave.
(573) 424-6833
centrocellarstudio.com