Josh and Chelsea Wright discuss their first date, favorite projects, what the future holds for the duo, and more.
How did you meet?
Josh: We met at The Bridge, which used to be one of the best places to see live music in Columbia. They had a great patio. In between acts, everyone would gather outside to chat. After meeting one night, we just started gravitating toward one another professionally and socially.
What was your first date?
Chelsea: It was at another favorite local establishment — Logboat. We were supposed to talk about upcoming work projects, but we ended up talking about everything else.
What keeps you busy during the week?
J: I work as an executive producer at Bucket Media for multimedia projects. I also try to keep in touch with my bandmates and help out with Tiny Attic projects.
C: I run Tiny Attic Productions, which creates films and animations, among other things. Josh and I are both dedicated to our work and have multiple creative collaborations outside of that.
What's it like to work together?
J: I consistently learn from Chelsea about film, design, editing, etc. She has an impressive bank of creative skills and artistic influences. We're always helping each other in the critical moments. When you spend so much time invested in a project, you can lose focus, get disheartened, start doubting your ability, or potentially mishandle a situation. Those are the moments when we lean on each other the most.
C: We love filming together. Josh is amazing in the field. He is always grounded and authentically passionate about everyone and anything we film. He also weighs in on the editing process, which is wonderful. His thoughtful advice and creative problem solving has gotten me through a lot of late nights and tough projects.
What is your favorite art or culture activity in Columbia?
J: Live music. Columbia is filled with talented artists, especially musicians. There was a time when I would perform once or twice a week and go to live shows almost every other day. I love the tribe of folks in Columbia that appreciate the live performance experience.
What is the key to a lasting and healthy relationship?
C: We support each other in everything we do. We are each other's sounding board. There's no experience I don't want to share with him.
What is the best quality of your partner?
J: There are so many to choose from! I love Chelsea's empathy and energy toward others.
C: Josh's smile and unrelenting desire to learn reminds me that there's something exciting in every moment.
What is unique about your relationship?
C: Since we started dating, we've always enjoyed helping each other with our respective side projects. Even after he has a long day at work, Josh shows up to run an extra camera and make sure the performances get shared.
What does the future hold for the two of you?
J: Most of our work is client-driven, but we have been able to work on a few projects under our own direction. Carving out more time for our own stuff is the next big push.
C: Hopefully, more collaborative projects. We started writing an animated TV show based on our love of local music in small towns, and I've been searching for grants and opportunities to get that off the ground.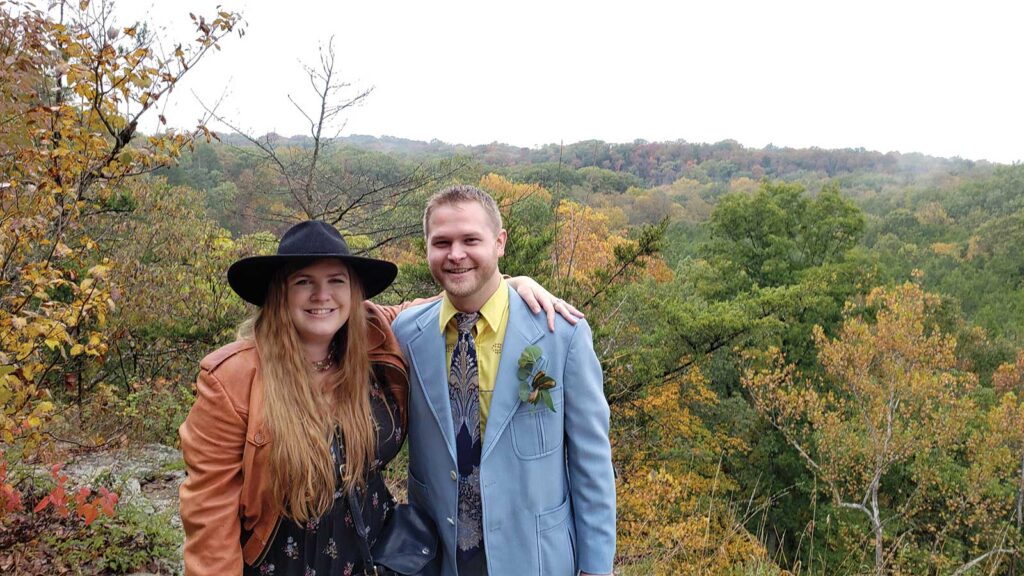 What are some of your favorite outdoor activities?
J: I like cooking at campfires, hiking, kayaking, and seeing more stars out in dark sky areas.
What has been your favorite project to work on together?
C: It's a tie between professional and personal work. With Tiny Attic, we made a feature documentary called "Living Soil." We're both passionate about environmental sustainability, and we learned so much speaking with some of the most innovative farmers and food producers in the country. I also love making videos and art for Josh's bands, The Royal Furs and The Ridgerunners.