After 17 years in service, Columbia Access Television finds itself evolving for a new chapter.
For 17 years, Columbia Access Television has been a resource to help keep the public voice in mass media. Doing so hasn't been a simple feat.
CAT first went on air in 2004 as a public access station. "For several decades, [public access television] was a great thing," explains Matt Schacht, president of Vidwest, the nonprofit that now operates CAT.
Matt says that a lot of communities, especially in rural areas, needed public access television just to communicate with one another. There are some places in the country where it's still vital, but larger communities have become a totally different landscape for public media. "In a place like Columbia, there are pressures that have forced public access television to evolve," Matt says.
Staying Relevant
Vidwest is a second-generation film media nonprofit based right here in Columbia. For further clarification, Matt explains that "CAT refers to the cable channel, which we are restarting, while Vidwest Studios refers to the physical space. We are making that distinction so that the public is aware of the studio space."
These days, if someone wanted to make a show of their own or check in on the city council meetings — two staples of traditional public access TV — they could do so easily through the Internet. This has required CAT to reinvent itself to better serve the community and its content creators. Right now, Matt says, a lot of the people and creatives in Columbia want studio space, and that's what CAT is doing.
"A lot of videographers, photographers, small business owners, and students just can't afford to maintain a studio space," Matt says. "So we're providing that space for them at a very low cost." And with an all-volunteer staff, the team works to manage it and ensure there are no scheduling conflicts.
On top of providing space for these creatives, CAT is also providing live-streaming services for weddings, fundraisers, conferences, and more. Most recently, the organization helped the Columbia Center for Urban Agriculture stream its annual Harvest Hootenanny, and it was overwhelmingly successful. The event racked up thousands of views on YouTube and raised $11,000 within just a few hours.
Giving the Community Some Space
To help provide the community with the space that they want and need, CAT recently relocated to a larger space on the Business Loop. "We just did a photoshoot, and we had three photographers doing three separate shoots at the same time," Matt says excitedly. The new space allowed the photographers and models to have enough space to safely work, relax, and even do an outfit change without being uncomfortably crammed together.
Before the move, CAT was located closer to downtown, but rent prices became more expensive than the nonprofit needed to keep up with. "We were attracted to the Business Loop because there's an initiative to create makerspaces all along the Loop," Matt explains, referencing Cre[8] Columbia, an organization supporting independent creative and manufacturing work in the area. "We felt like relocating Columbia Access Television to an area of town that was trying to brand and develop itself as a thruway of makerspaces made a lot of sense for us. We felt like this was a good place to be."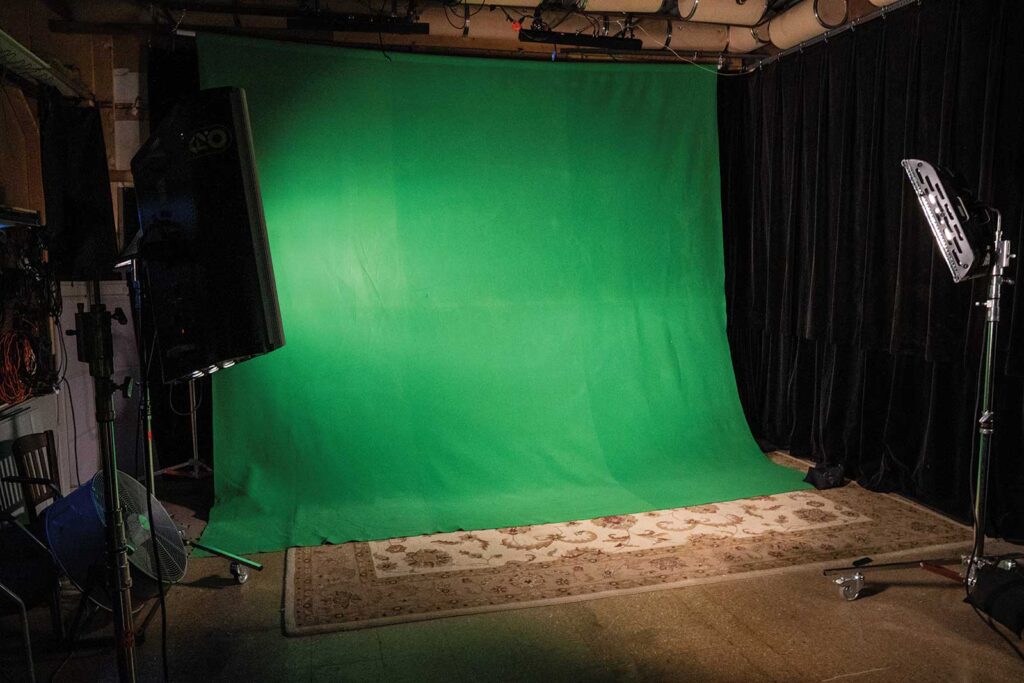 The new space is a fixer-upper, but after a few coats of paint and some patches in the roof, the opportunities the space will provide the nonprofit are even greater than the gains they've already made.
The Search for New Funding
Historically, all public access television stations are financed by cable franchise fees — taxes that cable companies pay to operate in specific jurisdictions. These fees can range between 3% to 5%. "The city of Columbia taxes Century Link, Charter, Mediacom . . . and that's money that the city has discretionary use of," Matt explains, adding that the city can put this money in their general fund, or they can use it to fund public, education, or government channels, commonly referred to as PEG channels.
Since starting in 2004, Columbia Access Television has been funded through these cable franchise fees allocated by the city of Columbia, but that model has been fading away. The city has shifted money away from funding public access channels, Matt explains.
"Without city support, CAT would not exist. As the new manager of CAT, Vidwest also hears a clear message coming from city leadership that CAT needs to seek greater financial independence," Matt explains. Now, it's just a matter of finding a new source of revenue to become independent from the city's funding.
"At the moment, we're looking for those sources of revenue," he says, "and I'll be honest, we don't exactly know where we're going to find them. There are no clear paths for us as a public access television [station]."
This isn't an uncommon problem for public access television stations around the country. Many are having to figure out new ways to stay relevant and survive on their own. The solution varies from channel to channel, depending on what's right for the community. Some channels have found that airing high school sports games is something the community wants to pay for, while others are still getting support from their city's cable franchise fees. "There's a number of options available to us," Matt says, "and we're exploring as many options as we can with our dedicated volunteers."
Columbia Access Television
1600 Business Loop E.
vidwestnonprofit@gmail.com
vidwest.org
---
Mission: To advance the art of cinematic storytelling in Missouri.
Founded: 2004
Vidwest Board members:
Matt Schacht, president
Robin Anderson, treasurer
Melissa Lewis, board member
Aimee Davenport, board member
Monica Palmer, board member
Key Volunteers:
Jon Asher, photography studio manager
Jordan Lundy, tech consultant
Greg Kinkeade, recording (audio) studio manager
Jackie Casteel, True/False building coordinator
Aaron Phillips, community volunteer and filmmaker
Kelly Betz, longtime CAT member and supporter
A.D. Hamilton Jr., new CAT member