How Burrell Behavioral Health continues to provide compassionate mental health care.
When Mid-Missourians need someone to listen, CJ Davis and his team are all ears. 
CJ is the president and CEO of Burrell Behavioral Health, a behavioral health center with over 40,000 clients across Missouri and Arkansas. The group has specialized in accessible and compassionate behavioral health care — an umbrella term for mental health, substance-abuse disorders, and other behavior related conditions — for nearly 45 years. They do everything from therapy and addiction recovery to crisis intervention, and they have continued to provide personalized services in an increasingly virtual world.
Changing the Course of Mental Health Treatment
Burrell's roots go back to the 1970s. In 1963, President John F. Kennedy signed the Community Mental Health Act. This act set aside federal and state aid to be utilized for compassionate mental health care centers, moving the country away from archaic asylums and outdated and ineffective treatments. It instead shifted focus to a more empathetic approach designed to fit the needs of each individual community.
Burrell was founded as one of these community health centers and remains one of the largest such centers out of 3,000 nationwide. It was named after a famous judge in Springfield, Missouri, who had many people with mental health conditions come through his courtroom. He was a fierce advocate for behavioral health care and supported creating one of these centers in his hometown, which is where Burrell is now headquartered.
A Missouri native, CJ joined the team in 2017. He says the No. 1 priority at Burrell will always be people, and he is dedicated to providing quality service on a schedule that works for the people who need it.
"If you have a broken leg, you don't wait three weeks to go to a physician," CJ says. "You go right away to get the care that you need, and people with mental health conditions are no different."
It all goes back to the four core values that Burrell holds — accessibility, excellence, integrity, and compassion. And the value of accessibility took on a whole new meaning under COVID-19. Burrell's doors didn't close; they just opened online. And that allowed Burrell to serve more people than ever before.
"On a typical day before COVID, 16% of the population experienced a concerning behavioral health symptom, but during the pandemic that number shot up to 55%," CJ says. "And we went from providing 95% of our services face-to-face to 95% of our services online within a two-week period."
Burrell saw about a 30% increase in clients in the year 2020, and they aren't anticipating the need for quality mental health care to slow down any time soon. They're bracing themselves for the "second curve" — an uptick of behavioral health consequences resulting from the past year and a half of isolation and fear that the pandemic brought on.
"All the build-up that we have done to increase service volume over the last few years is really preparing for this," CJ says. "We anticipate over the next three to five years we will see more anxiety, depression, and addiction. People lived in isolation and they just don't turn that light switch back on all of a sudden."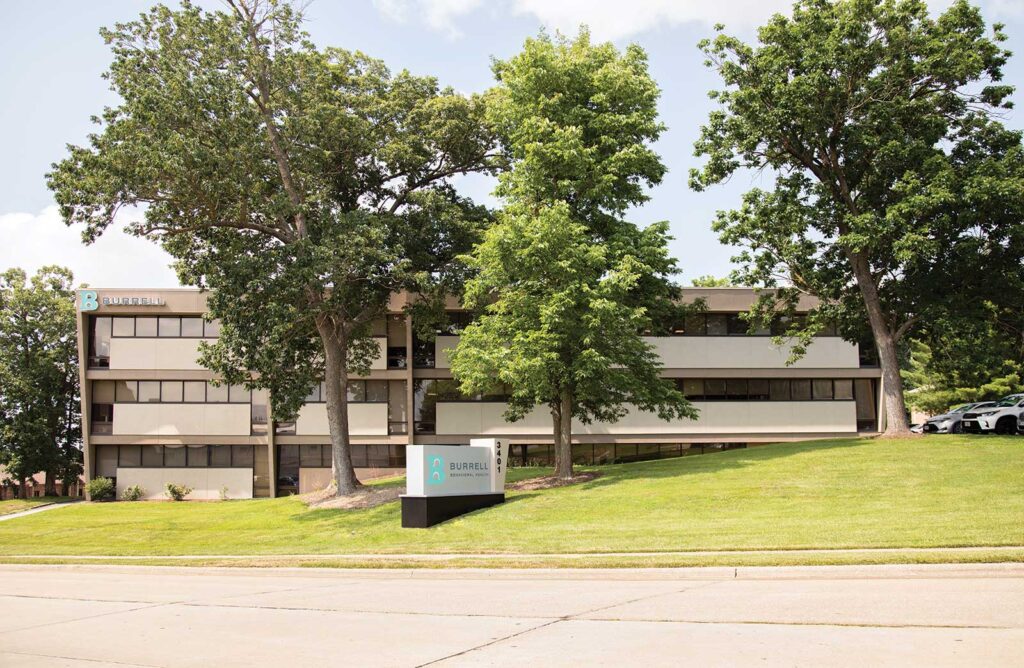 Looking Ahead
As the world turns a corner with the pandemic and more people get vaccinated, Burrell has scaled back on virtual events and resumed some in-person services. But since they've experienced such success online, they still offer about 50% of their services in a virtual format.
Burrell is also up to big things with the Burrell Foundation, a new initiative launched about a year ago. CJ says the main mission of the foundation is to tell the stories of individuals who are living with mental health conditions and are conquering them every day.
"When people share their story, it's powerful," CJ says. "It allows you to understand you aren't the only one battling demons or mental health issues."
Although many of the details of the work being done for the foundation are still developing, CJ did share that it will feature some powerful symbolism alongside its impactful stories. The foundation is working to promote a program where bells — modeled after bells created in the 1950s from melted down shackles used to chain patients in asylums — will be installed at local businesses and community spaces. Its purpose is to symbolize the hope in mental health treatment today.
Burrell is also working to bring a Behavioral Crisis Center to Columbia, which will be open 24 hours every day of the year to give people immediate care. CJ says that this type of center can help someone avoid a psychiatric or addiction-based emergency that could lead to an emergency room visit or an incarceration. The BCC in Burrell's basecamp of Springfield has been a big success, CJ says, and he hopes to replicate it with the help of local support and some state funding. Columbia mayor Brian Treece even paid the Springfield crisis center a visit in mid-June to see it up close and personal.
"We've had a tremendous amount of groundwork in grassroots efforts to get the community to buy into this concept," CJ says. "It will be a game changer."
Burrell also aims to expand their workforce and their Columbia locations over the course of next year. CJ says he is thrilled in the direction Burrell is heading and how it will increase its services in Mid-Missouri.
"We're starting to see that growth in Columbia and we're super excited to be more available for the community."
For non-emergency behavioral health services, call 573-777-8300 or visit www.burrellcenter.com/locations. Get help 24 hours a day by calling 1-800-395-2132. 
Burrell Behavioral Health
Berrywood Center: 
3401 Berrywood Dr., (573) 777-8300
Stephens Lake Clinic: 
1805 E. Walnut St., (573) 777-7500