Tigers on the Prowl artists create artwork for a cause.
Rachel Choma's artwork is the culmination of thousands of lines made using a simple ballpoint pen.
The Columbia native has been working with ballpoint pens since she was in high school. She studied fine art at MU and is pursuing a master's degree in education.
Rachel was among the 12 artists who participated in this year's Tigers on the Prowl Art Unveiling event, which revealed the artwork at the Columbia Mall. Tigers on the Prowl partners with sponsors and artists to raise money for local charities. The majority of the funds are raised through selling sponsorships, tickets, and artwork at the organization's annual dinner and art auction.
This year's 12 artists are Dana Hartgrove, Jeremy Bevins, Justin Le Tourneau, David Spear, Marie Josée Thiffault, Emmett Russell, Jenny McGee, Carrie Johnson, Philip Peters, Richelle Douglas, Rachel Choma, and Kate Gray.
Titled "What You Unexpect," and inspired by Columbia's slogan, Rachel's tiger features a ballpoint drawing that features two bluebirds and three dogwood flowers. "I thought that our town's slogan fits so well for this weird, quirky, and awesome town that is a combination of everything — it is like this awesome duality of nature and city," Rachel says. "My parents are empty nesters now, and they're at a place where they have made their house an Eden, and there is so much nature around. This year, the dogwood tree at my family's house bloomed in the most beautiful way. My parents also watch bluebirds from their house, which is our state bird."
Most participating artists are local professionals. David Spear, the founder of Alleyway Arts, unveiled his work, titled "Silver Moon." In it, the moon is casting a glow revealing the gaze of a tiger. Silhouettes of Columbia's architectural landmarks surround the circular border. Local graphic designer and artist Kate Gray also unveiled her painting of the eye of a tiger. During a narrative offered at the Tigers on the Prowl Art Unveiling event, Kate explained, "When I started to break down the eye of the tiger, I saw this gemstone, multifaceted aspect of something or someone inside the eye of the soul," she says. "From there, I started breaking apart all the elements to it and made little parts that represented all sort of aspects of our lives, and I layered those with ink, watercolor, and pencil and took the lines to bring the viewer down into the eye of the tiger."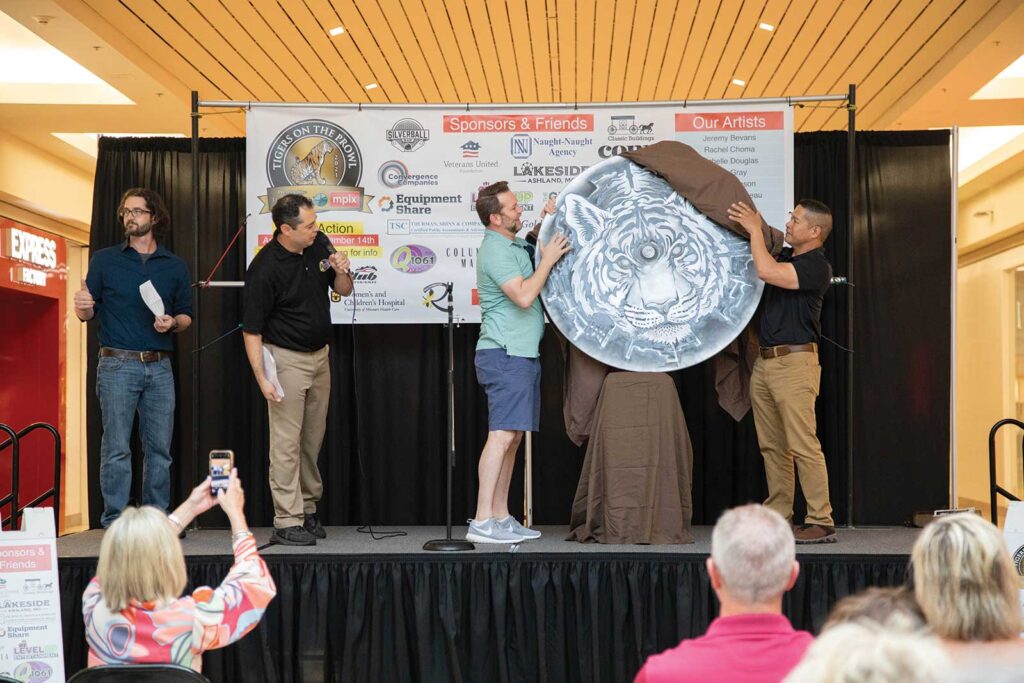 The artwork will be auctioned off on September 14. The money is split between the six participating charities — Central Missouri Community Action, MU Women's and Children's Hospital, Grant Us Grace, Love Coffee, Safe Families for Children, and Rally for Rhyan — and the artists.
Bill Costello, president of the MU Women's and Children's Hospital Advisory Board, says the funds raised for the hospital will improve their music therapy program. The program has been around for about eight years. "We utilize music and music therapy to bring about healing in the lives of the children we are taking care of," he explains.
Grant Us Grace, a nonprofit created by Tonya Goodin, will use the funds it receives to further research for multiple sulfatase deficiency, a terminal disease that makes the body unable to get rid of cellular waste, contributing to a progressive loss of mental abilities and movement. Tonya's children, Grace and Grant, were diagnosed with MSD in 2019.
As for Rachel, she says she is already looking forward to next year's Tigers on the Prowl event. "I think it's amazing that this organization supports local charities and artists," she says.
Tigers on the Prowl
400 S Brookline Drive
Tigersontheprowl.org