The Missouri Women's Business Center continues pushing forward.
According to the United States Census Bureau, roughly only 33% of businesses are owned by women. Luckily, thanks to organizations like the Missouri Women's Business Center, these numbers are on the rise. 
A program of Central Missouri Community Action, the MoWBC is a nonprofit that empowers women to become business owners or assists those who already are.
"We provide business development assistance to women who would like to start or grow a business through free, one-on-one coaching and training," says Jessie Yankee, director of the MoWBC. "We work with basically anybody — from somebody who just has an idea to somebody who has been in business for 20 years who just needs some help pivoting in this new world. A lot of what we do is just being their advocate and being their accountability partner to help them keep the goals that they set themselves or with us."
Jessie and the MoWBC team help their clients in a multitude of ways to support them along their journeys. However, money makes the world go round, and Jessie says that one of the most important ways the MoWBC supports their clients is by helping secure capital.
"We really help the clients that would never be able to go into a regular bank and just walk in and say, 'I need a loan.' Most of the businesses we work with don't need a lot of capital. Like, maybe they just need $10,000 dollars to buy some equipment or get a great website, things like that," Jessie says, explaining that many MoWBC clients need non-traditional capital — not bank loans — to start a business. "Non-traditional capital can look like using a revolving loan fund or microloans. We're a trustee for another nonprofit called KIVA, which is a great product because it has 0% interest and they don't base it on credit, which is unheard of. We look at all types of things like that and we are really growing in that area."
Jessie says that the problem of capital is a prime example of the kinds of obstacles MoWBC clients can face. "The real key of what we're doing is trying to remove any barriers that exist for a woman to build the business she wants to build, whether that's capital, or hiring, or anything else that might come up," she explains. "This is what we do."
Every single coach at the MoWBC, in addition to having prior experience, is currently running a business themselves.
"I think that's really essential to what we're doing. We're not just people who have gotten some degree. We have lived the entrepreneurial life and we face a lot of the same challenges our clients do," Jessie says. "We also just bring an immense amount of different experiences. We have one coach who has been a restaurant owner for 15 years, and she handles all of our food clients — she's amazing. I deal with real estate stuff. Another one of our coaches has a lot of logistical and operations experience. It is amazing, the team we've got right now."
In the entrepreneurial scene in Mid-Missouri, MoWBC has become a pillar. "I would say that we have been a really big catalyst for other resources coming into town," Jessie says. "For example, we really work to make sure that our clients are informed of things like [business] relief during the pandemic or other things like that. We produce better prepared, more financially stable clients that are starting businesses in our community."
The program is funded by the Small Business Administration, which gives the MoWBC a sense of stability that aligns with their mission. "These programs, like the MoWBC, exist because the federal government wants to help drive economic development. It's a nice thing to see tax dollars going to something that is really positive for the community," Jessie says.
Currently, they're in the process of opening a new business development center that will focus on assisting underserved communities. The new building will have many helpful features, such as working spaces and a free resource closet, something that Jessie says is especially important for new business owners on a tight budget.
If you are interested in lending a hand with the MoWBC, there are plenty of volunteer opportunities to go around.
"Everybody has something to offer because everyone that volunteers or teaches a class has unique experiences," Jessie says. "Volunteering to teach one of our classes or to be a guest speaker or a mentor — we absolutely love having accountants and attorneys that will spend time with us. And, of course, we always need financial partners. At the end of the day, we're a nonprofit and we need sponsors for our programs."
This June, the MoWBC celebrated five years of helping women build businesses. "Before I took this job, I ran my own business for seven years. The resources did not exist in the same way that we provide at the Missouri Women's Business Center," Jessie remembers. "All the time, I think about what it would have been like to have a MoWBC coach during that period of time."
After experiencing the difficulties of being a small business owner firsthand, Jessie says that the biggest impact that the MoWBC has made on the community is simple: "Women running businesses are not alone anymore."
Missouri Women's Business Center
500 E. Walnut St., Ste. 103
(573) 818-2980
mowbc.org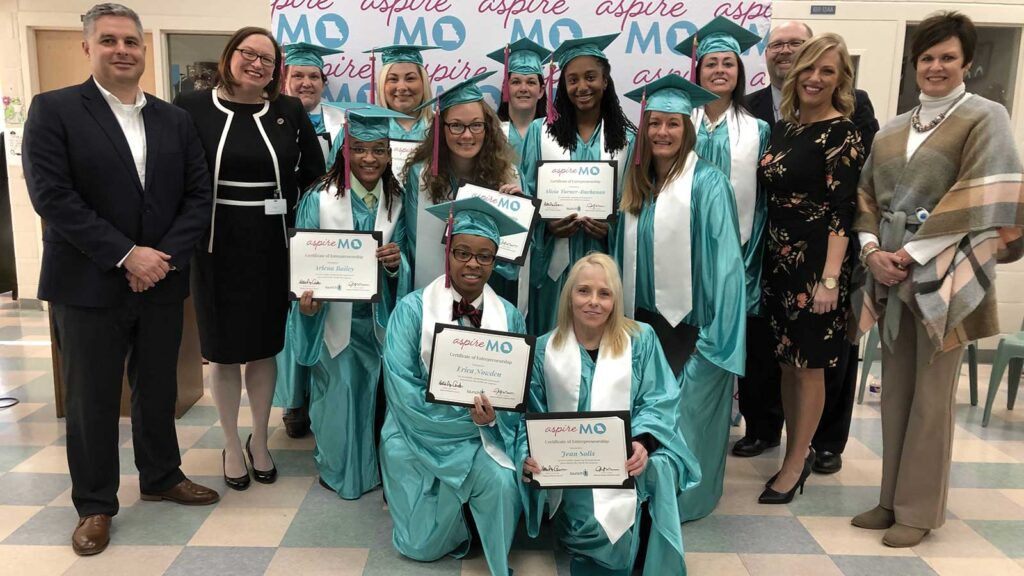 ---
June 2016 
Missouri Women's Business Center opens.
November 2018
The MoWBC holds the first annual Women Who Own It Awards, where exceptional businesswomen are nominated and recognized for their hard work.
December 2018 
The MoWBC launches the ASPIRE MO program, a 20-week entrepreneurship program for women in correctional facilities.
July 2019
The MoWBC becomes a KIVA trustee, creating more opportunities for much-needed business capital.
July 2020
The MoWBC expands and adds five new business coaches to their roster.
April 2021
The MoWBC hosts its first virtual women's business pitch competition, where women pitch their businesses for a chance to win up to $5,000.
June 2021 
The MoWBC celebrates five years.