Local youth foundation provides the means for Columbia children to pursue their passions.
Since 2014, Day Dreams Foundation has provided more than $260,000 in scholarships and equipment to more than 550 Columbia youths. This support has allowed the youth to pursue their passions by participating in activities such as sports, music, STEM, dance, and theater — or whatever else they dream of.
All school-age children living in the Columbia Public Schools district who qualify for free or reduced lunch are able to apply for the needs-based funding, which can be used toward registration fees, uniform costs, and equipment costs for extracurricular activities.
While program participants most certainly benefit from the camaraderie, pride, and excitement of being part of a team or learning a new skill, they also learn about living healthy lifestyles, goal setting, and the importance of academics. Participants are able to access gently used items from the Day Dreams equipment closet, free of charge.
"Scholarships are renewable up until the child graduates, as long as the family is still eligible," says Day Dreams executive director Tricia Koedel. "While on scholarship, Day Dreams kids are asked to be actively involved in the community and pay it forward in a way that is meaningful to them."
Investing in Community
In addition to providing scholarships for extracurricular activities, Tricia says the organization aims to expose kids to other opportunities throughout the community. Last spring, Day Dreams, in partnership with the University of Missouri athletics department, held a Field Day where kids from Day Dreams Foundation, KIDZ I.N.K, and the Boys & Girls Club of Columbia were able to interact with MU student athletes.
"I loved seeing all of the smiles that day, on the kids' faces as well as the student athletes," Tricia says. "The children were excited and inspired and heard how it took a lot of hard work to get to be a collegiate athlete."
This exposure to new opportunities, and the formative experience that extracurricular activities can provide, not only impacts program participants — it impacts the entire community.
"Our community is better when we support the goals and dreams of our youth," says Kelsey Louder Kirchhoff, who is the Day Dreams board president. "By giving scholarships for extracurricular activities, we hope to contribute to healthy lifestyles and encourage Day Dreams kids to believe in themselves. We get the opportunity to hear stories of kids building confidence, learning leadership skills, making friends; all the benefits of participating in extracurriculars. We also get to hear kids talk about how much they love their chosen activity. The joy and excitement that comes from kids trying new things and just getting to be kids can really impact a community in such a positive way." 
Day Dreams also awards one renewable college scholarship each year to a local high school senior who has benefited from participating in an extracurricular activity. Since 2016, Day Dreams has awarded $16,750 in Jenny Bradley College Scholarships.
While each individual scholarship award is certainly an investment in the recipient, it's also an investment in the community-at-large.
"The more opportunities we can provide for youth development and enrichment, the more our community will thrive," Tricia says.
A Growing Impact
Not surprisingly, after years of isolation due to COVID-19, parents are more eager than ever to get their children active, involved, and engaged in activities alongside their peers.
"We've seen tremendous growth over the past couple of years," Tricia says. "I think that after enduring lockdown and then hybrid schooling, many parents were eager to get their kids active again and engaged with their peers face-to-face. We all know that sports and other activities can be so beneficial to improving not only physical health, but mental health as well."
At the same time, inflation has caused price tags to increase across the board, straining household budgets. As a result, the foundation is receiving more applications than ever before. In 2019, the foundation awarded just over $31,000 in scholarships and equipment to 125 kids. This year alone, Tricia says the foundation will award more than $75,000 to over 225 kids.
"Many families are having a hard time right now, and for some, there just aren't funds left over in their budget to pay for their kids' activities, which can be expensive," Tricia says. "For these reasons, I think, we've seen the number of applications jump by more than 42 percent this year compared to 2021."
As the scholarship program has gained popularity throughout Columbia, the foundation has also experienced exciting organizational growth. With help and support from Veterans United Foundation, the organization recently moved into a larger, more accessible office space, which allows Tricia, and new part-time program coordinator Annmarie Athon, to better serve families.
"When I first started this job, just a couple years ago, I didn't come across too many people who knew what Day Dreams was about," Tricia says. "Through conscious efforts to build relationships in the community, I'm pleased to witness an increased awareness of our organization and our mission. The more people who know about us, the more kids we can help."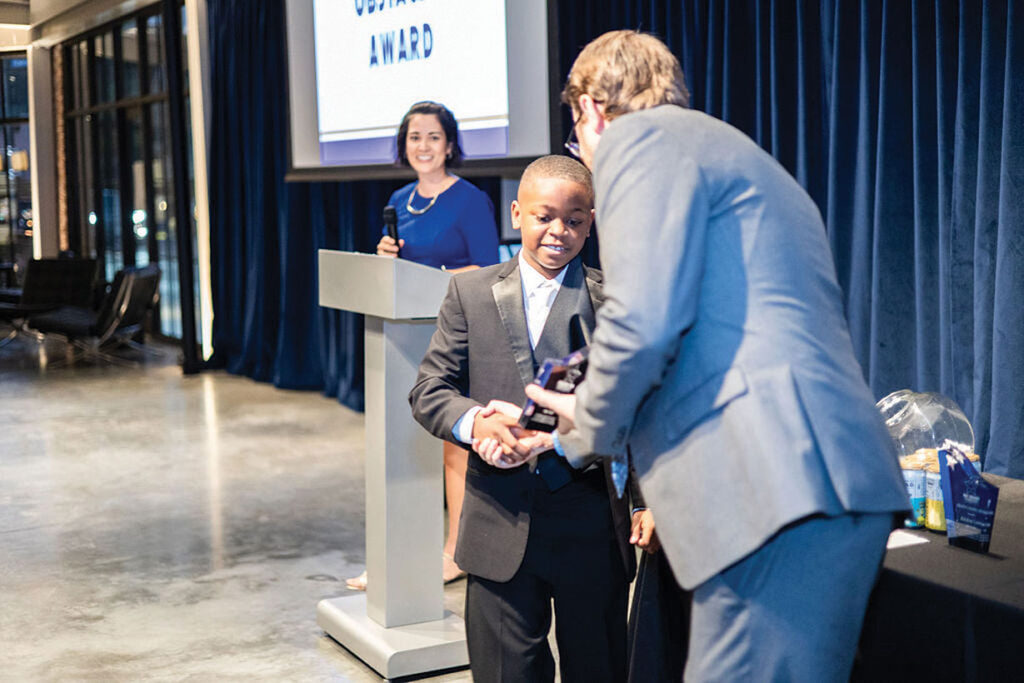 Looking Towards the Future
Day Dreams has big plans to capitalize on their momentum by continuing to build partnerships with businesses, organizations and other community stakeholders that align with their mission. In addition to the Field Day partnership with MU Athletics,
Day Dreams also partnered with Boys and Girls Club of Columbia for an equipment giveaway, resale, and resource fair. LBO Sports and Columbia College have donated camp spots in the past, and Tricia says they are always on the lookout for additional business sponsors willing to donate spots at clinics and summer camps. 
"Five hundred dollars per year only goes so far, and many Day Dreams kids would not be able to have those extra experiences without their wonderful generosity," Tricia says.
---
Day Dreams Foundation Mission
Day Dreams Foundation eliminates financial barriers to participating in extracurricular activities and promotes healthy lifestyles, goal setting, academics, teamwork and respect for others.
Founded
2014
Board
Joe Bradley, Founder & President
Trischa Splitter, Vice President, Fundraising & Marketing Committee
Rick Matheny, Treasurer, Program Committee
Josh Giliberto, Secretary, Program Committee
Amy Watson, Internal Affairs Committee
Hannah Orf, Fundraising & Marketing Committee
Jeremy Osborne, Program Committee
Lee Franklin, Program Committee
Danielle Burrow, Fundraising & Marketing Committee
K.D. Bartelt, Fundraising & Marketing Committee
---
Day Dreams Foundation
200 E. Walnut St., Suite #4
573-214-2600
tricia@daydreamsfoundation.org
daydreamsfoundation.org