Today in Columbia's history: Columbia Milling Company and the MFA Tower 
On February 6, 1882, the Columbia Milling Company was incorporated with General Oden Guitar as president. Agriculture was the main business in Columbia and mid-Missouri for most of their early history.
Grist mills and grain elevators were an important business in Columbia and the surrounding farms would bring corn and wheat to be ground into flour. Many of the early grist mills were along creeks and powered by water. Grindstone Creek is named after the rock outcrops along its course that were used to carve grindstones for the mills. One famous mill was located south of Columbia near the Rock Bridge in what is now Rock Bridge Memorial State Park.
William Switzler describes the Columbia Milling Company in his 1882 History of Boone County:
"The Columbia Milling Company was incorporated February 6, 1882, with a cash capital of $60,000. Its members are Gen. O. Guitar, president; G. W. Henderson, vice-president and superintendent; F. Pannell, secretary; J. M. Baker, treasurer, and W. T. Anderson. The company owns the Columbia flouring mills, which have a capacity of 150 barrels daily; the Columbia wheat elevator, with a capacity of 100,000 bushels, and the Centralia corn elevator, with a capacity of 50,000 bushels. The Columbia flouring mills have five stones, one pair of rolls, 22 hovels, and run night and day. The engine is of 80 horse power. 
The Farmers' Mills are situated on a one and a half aere lot in the northwestern part of the city. The main building is 24x10 feet, with a wing 12x20. The flouring mill contains three run of burrs and uses the Morse elevating bolt. The machinery is driven by an engine of forty-horsepower. The mill has a capacity of 40 barrels of flour in ten hours, and 150 bushels of corn meal. The saw mill cuts 6,000 feet of lumber per day. Ten men are employed in the mill. The mill building is entirely new, completed in the summer of 1882. It is three and one-half stories high including the basement. Maupin, Smith & Co., proprietors. Superintendent, R. H. Smith, a practical miller of 35 years experience." 
Other mills and grain elevators operated in the 20th century. In the 1960s, the Missouri Farmers Association grain elevator on Paris Road was constructed. It was an iconic landmark of north Columbia, emblazoned in red with "MFA", and could be seen from I-70. The tower stood for almost 50 years until its demolition in 2021. In 2023, milling and grain storage no longer plays a significant role in Columbia's economy.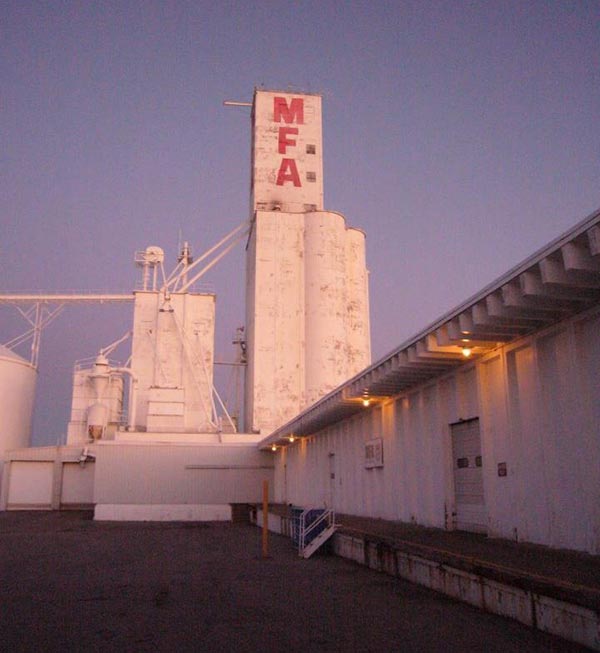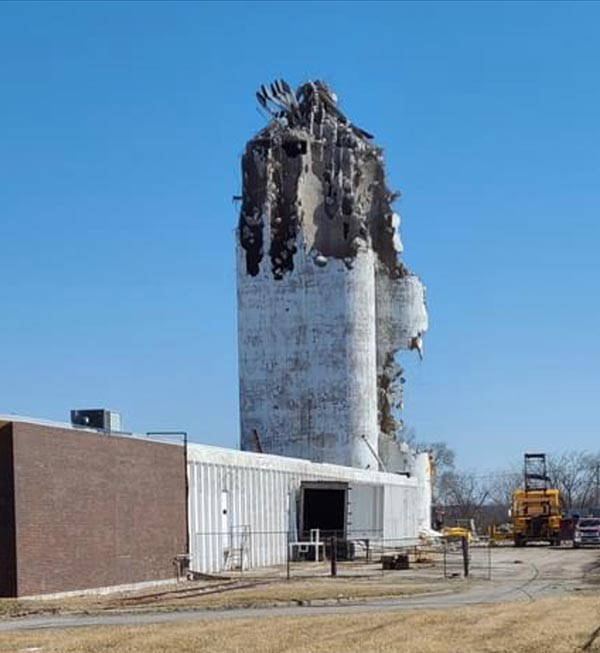 Concerned by the destruction of iconic Columbia landmarks, our group, CoMo Preservation, hopes to help homeowners, landlords, and institutions prevent the destruction of historic architecture.
Original period styles might be replicated but will forever lack the social history of authentic structures. The preservation of historic buildings is necessary for Columbia's residents, students, and visitors to achieve a sense of place and, it follows, for our city's continued economic success.
If you want to join us in our mission, sign up for our mailing list to receive news and updates.
This CoMo 365 blog entry was constructed by Matt Fetterly using these sources:
Switzler, William F. (1882). History of Boone County. St. Louis, Missouri: Western Historical Company. p. 812-813. OCLC 2881554.
Havig, Alan R. (1984). From southern village to Midwestern city: an illustrated history of Columbia. Woodland Hills, California: Windsor Publications. ISBN 9780897811385.
Crighton, John C. (1987). A History of Columbia and Boone County. Columbia, Missouri: Computer Color-Graphics. OCLC 16960014.
Southey, Stephanie (March 3, 2021). A landmark no more: MFA Tower in Columbia is history. Columbia, Missouri: KOMU 8. Accessed February 6, 2023.
---
CoMo 365 is written by historian Matt Fetterly as a collaboration between the Boone County Historical Society and CoMo Preservation. If you have questions or corrections, contact Matt at como365@protonmail.com