From shampoo and clothing, to every flavor of Faygo you could imagine, Essentialz CoMo is your new one-stop destination.
Essentialz CoMo opened its downtown location in February 2021, but the journey there started many years ago. Owner Dimetrious Woods has traveled a long, challenging road to success. Now he's motivated to give back to the community and the people that supported him.
Dimetrious was born in St. Louis, but his family moved to Columbia in an attempt to help him escape drugs and violence. Growing up in poverty, Dimetrious says he already had the instinct to hustle.
"I got to Columbia and immediately was like, 'Wow, there's no violence' — it was a different Columbia than now. I was like, 'Man, I can sell drugs and not have to shoot people' because I was never real violent back then," he recalls. "I was growing up and doing what I thought I had to do to get something to eat. Nevertheless, I fell in love with Columbia."
Although he felt more at home in Columbia, Dimetrious still struggled with his decisions, spending time behind bars before he even turned 18. He later opened Tint Crafters, now known as Tiger Tinting. He also started his own clothing line, Motivated Fashions, which he first sold out of Parkade Plaza in Columbia.
But in 2007, Dimetrious was convicted of drug trafficking. An article in the April 23, 2020, online issue of The Missouri Times reported that he was deemed a repeat offender. He was sentenced to 25 years with no possibility of parole. The article said Dimetrious "went through hell," developing insomnia and anxiety. However, he says his motivation never faded.
The Missouri Times article said that after the Missouri legislature revised the criminal code, eliminating language prohibiting probation or parole for prior and persistent drug offenders, Woods fought for the changes to be retroactive. He had to become his own best advocate and studied in the prison library — paying for extra time, the article stated — and he learned how to write a legal motion.
Dimetrious was finally getting a glimpse at a brighter future when he was granted a parole hearing and released from prison in March 2018. He opened Wood's Auto Spa, along with Munchi's, a food truck, the following year.
His life seemed to take another negative turn when the Missouri Supreme Court ruled that the parole board erred in releasing him. As Dimetrious operated multiple businesses and dealt with the prolonged stress of his case, his luck was finally about to change. On Wednesday, April 22, 2020, he was summoned to Jefferson City.
"I was working, and I get a call from Andrew Bailey: 'Hey, how are you doing? Andrew Bailey, governor's office, can you come up Wednesday?'" Dimetrious recalls. "I told him I would talk to my legal team. He said, 'Ah, don't bring them. What about one of your younger kids or something?' So, I knew then" that it was not bad news.
Governor Mike Parson partially commuted the prison sentence.
"I worked my butt off, and that's what really saved my life. The community seeing me doing the work," Dimetrious says.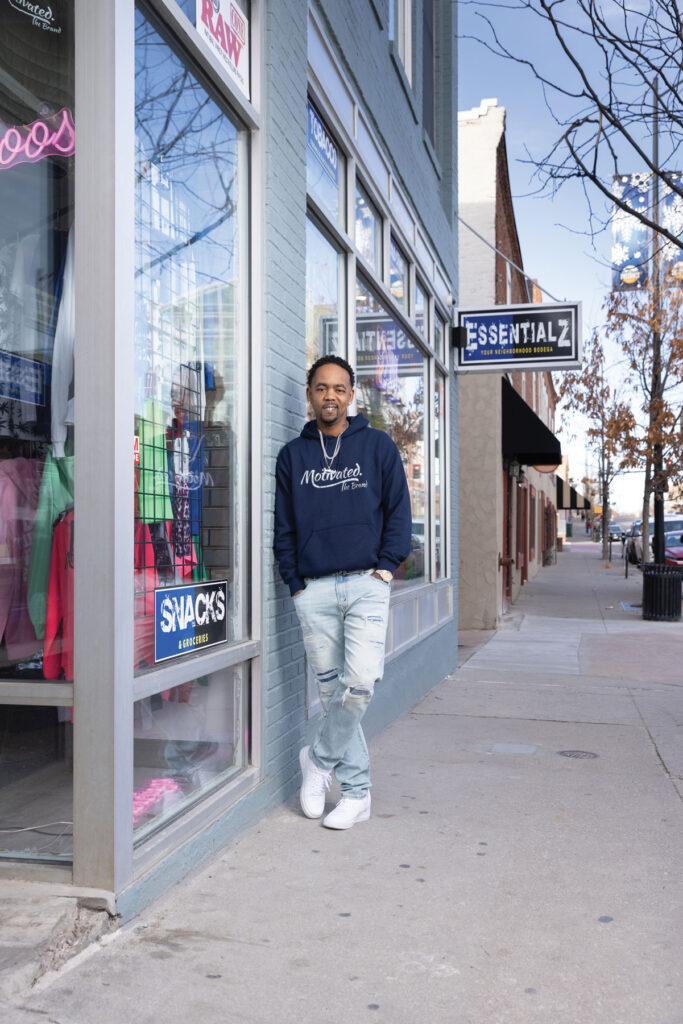 Open for Business
Now the journey comes full circle. In 2021, Dimetrious opened Essentialz CoMo in downtown Columbia. The store carries a variety of items, from the eclectic to groceries. Stop by to grab a late-night snack or check off half the groceries on your list. The unusual and common selections beg the question: How does Dimetrious decide what to stock?
"I learn from my customers; I listen to my employees," he says. "I start the right conversations, and that's how I got to this. I'm just open and I listen. Knowing that it's an ever-changing industry and adapting to it. I don't get too stuck on what I want, or what I like. I shift with it."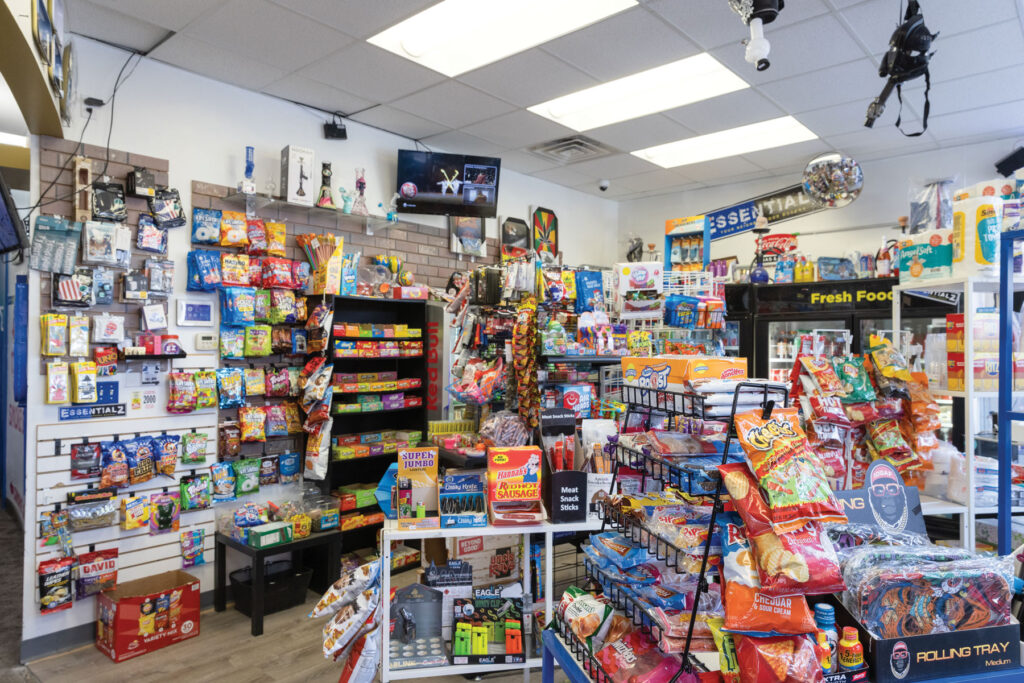 With such an array of products, Dimetrious can cater to many different demographics in the community, which has helped the business grow. Essentialz CoMo is also home to Dimetrious' quickly-expanding clothing line, Motivated The Brand. After moving away from the idea of a fashion line, Dimetrious felt the urge to try again.
Like most of Dimetrious' business, Motivated The Brand is not just another way to make money. The clothing brand is something that Dimetrious has been contemplating for years, with inspiration sprouting from different experiences and people in his life.
Motivated The Brand was born after his release and was inspired by many other motivated people he met along the way. The fashion line continues to be motivated by people like one of Dimetrious' sons, who is designing clothing under the Motivated The Brand name.
Dimetrious opened a second Essentialz location on the southside in April of last year. At his new location, you can also grab a bite to eat at his food-truck-gone restaurant, Munchi's. Munchi's is like the store it's housed in; there are an abundance of options. The menu includes burgers, catfish, wings, pizza, funnel cake, and more.
Just like Dimetrious's other businesses, Munchi's is working its way up the ladder of success. You can now find Munchi's serving at MU athletic events.
While Dimetrious is still fully motivated to hustling says he will always make time to give back to the community. The Missouri Times article pointed out that he has mentored at-risk youth and sponsored a dance team. He also paid his employees for a full day's work while encouraging them to take off early to participate in charity work. The article continued, "And he doesn't turn away those seeking help — no matter how busy he is."
---
Essentialz CoMo
15 S Tenth St
573-507-6557