Whitten Family Men's Basketball Head Coach
Company/organization:
University of Missouri
Job description
Coach the Missouri Tigers men's basketball team.
Professional background
Bachelor's of Sociology from California '01
Master's in Adult Education and Human Resource Development from Florida State '05
Skill and Development Coach, Los Angeles Clippers (2002-03)
Graduate Assistant, Marquette (2003-04)
Assistant Coach, Northern Illinois (2007-09)
Assistant Coach, Nevada (2009-11)
Assistant Coach, Florida State (2011-19)
Head Coach Cleveland State (2019-22)
Two Time Horizon League Coach of the Year while at Cleveland State
Hometown
Chicago, Illinois
Time lived in Columbia
10 months
Favorite volunteer/community activity
Supporting as many organizations and programs as I have been able to work with during my first year in Columbia, such as the Suicide Prevention Walk, the Homecoming Parade, MLK Day Walk, and supporting local businesses.
Favorite recent project
Joining forces with our administration and the women's basketball program to bring Mizzou Madness to The Columns.
A Columbia business person you admire and why
Richard Miller from Millers Professional Imaging. He has been a leader in the Columbia business scene and a leader in his support of the University of Missouri.
Why you are passionate about your job
Basketball is a platform for myself to impact my student-athletes in the classroom, on the court and in the community. I like to build a bridge for student-athletes for the next phase of their life.
Why you are passionate about your company
The people in the athletic department, the rich tradition of Mizzou, and the fans in the community.
If you weren't doing this for a living, you would
I would be a teacher and an educator if I decided to pursue a career outside of coaching.
Quote you live by
I've only just a minute,
Only sixty seconds in it.
Forced upon me, can't refuse it,
Didn't seek it, didn't choose it,
But it's up to me to use it.
I must suffer if I lose it,
Give an account if I abuse it,
Just a tiny little minute,
But eternity is in it.

— "Life Is Just a Minute" by Benjamin E. Mays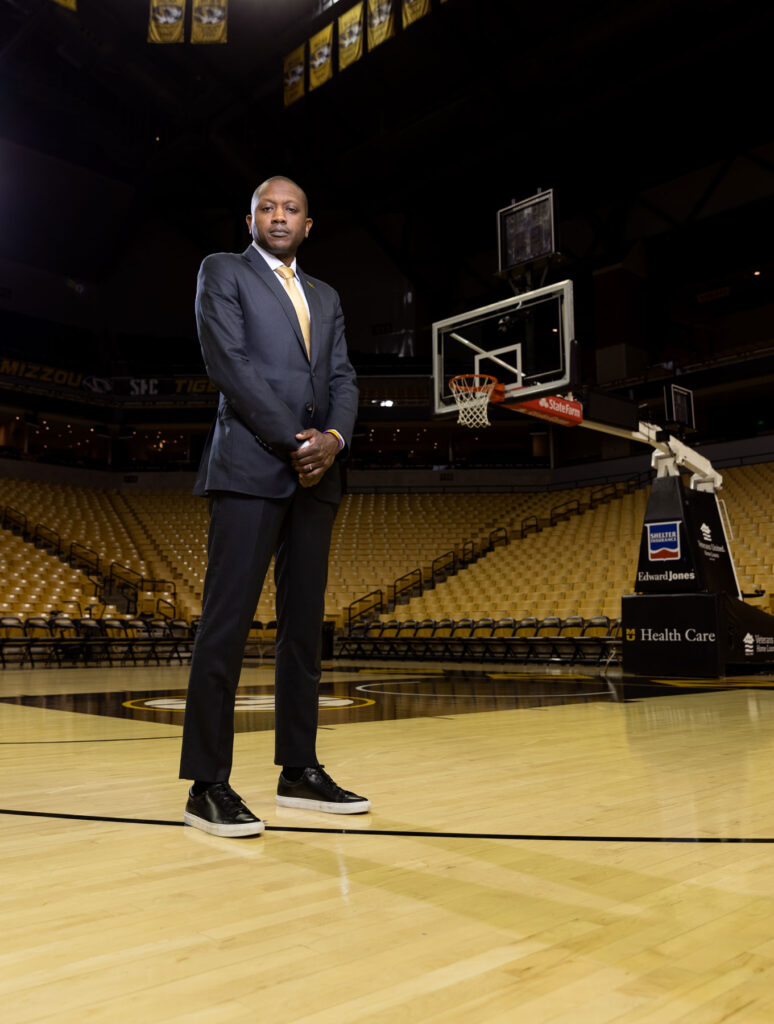 What people should know about your profession
Five percent of my job is coaching basketball and the other 95 percent is managing, mentoring and developing student-athletes into successful men off the court.
The next challenge facing your industry
The potential expansion of the NCAA Tournament and how that will change the landscape of college basketball. We have utilized the current format for nearly 40 years but now is the time to evolve and continue to put the student-athletes and their college experience at the top priority.
Your next professional goal
It is my dream to one day cut down nets, hold up trophies and raise banners at Missouri.
Biggest lesson learned in business
To allow people to be who they are and give grace. I want to hold up a mirror and show student-athletes the best version of themselves.
How you want to impact the Columbia community
I want to inspire future generations to be Mizzou Tigers.
Greatest strength
My greatest strength is patience.
What you do for fun
Fishing and painting are fun hobbies of mine and allow me to relax away from the basketball court.
Family
Wife, Jocelyn, daughter, Avery and sons, Duke and Denver
Favorite place in Columbia
My favorite place in Columbia is Mizzou Arena as there is nothing quite like a sold-out crowd in front of the best fans in the country.
Accomplishment you are most proud of
My biggest accomplishment is being a husband to my beautiful wife, Joceyln, and raising my three beautiful children. Professionally, I am most proud of having a 100 percent graduation rate as a head coach and an average grade point average of 3.4.
Most people don't know that
I want to fish in every body of water across the globe.