The Women's and Children's Hospital on Keene Street is slowly being phased out.
For decades, patients and families around the state sought care at the University of Missouri Women's and Children's Hospital. Though the location on Keene Street holds powerful memories for many patients, the hospital deserved an upgrade.
Last year, work began on a massive $250 million tower, located near the main hospital complex off Hospital Drive. The new tower will house both the children's hospital and women's services and is slated to open in the summer of 2024.
Chief of Hospital Operations Keri Simon says it was a necessary improvement.
"I think we've done an amazing job on Keene Street, [but] the difference is that the building was not built to be a hospital," Keri says, explaining that the location was originally built in the 1970s by a private group of physicians who mainly offered surgical and orthopedic services.
"The building was retrofitted, and when you retrofit an older facility, you are limited in what you can do," she adds. "The new tower is going to be wonderful in the sense that it was designed and built from the ground up specifically for the care of children, birthing mothers, and their families."
The new tower, simply named the University of Missouri Children's Hospital, is designed with accessibility in mind. It's intended to be a place where patients and families can feel comfortable and secure, no matter their situations.
"Our patient family advisory council brings in the voice of our patients and families to make sure we're thinking and looking through their eyes," Keri says. "They've participated in our committees and have been instrumental when designing the building and thinking about inclusivity—accessibility for families with disabilities—and we've included them to bring in that perspective."
The new tower will have ample space for families and visitors, with private rooms for every patient. Keri says this is especially important in the NICU, which lacked space at the Keene Street location.
"[On Keene Street] our NICU, unfortunately, had a mix of private and what we call 'open pod' rooms. In the new facility, all 54 of our patient spaces will be in private rooms, which will be a wonderful improvement from the current state," she says.
The new space will provide better privacy as well as other important benefits. Keri sasys that NICU babies "are very sensitive to noise and light, so having private environments that you can control based on the needs of the baby is always good."
One of the most obvious benefits of the new tower is simple: location. When the University Women's and Children's Hospital was located on Keene Street, it was difficult for doctors and staff to collaborate with one another, which is a necessity for patient care. Additionally, the Keene Street location lacked many types of high-tech equipment needed for more intensive procedures, such as radiation for oncology patients. Historically, those patients had to be transferred between Keene Street to the University Hospital—a time and energy-consuming process—but the new tower's location ensures that patients will be able to remain on campus.
"There's going to be a lot of advantage in colocation with some of our adult services," Keri says. "There are specific diseases where collaboration between pediatric and adult teams is best for the patient, so being able to do that on one campus — with all these colleagues close at hand — is certainly going to be an improvement."
Though the new Women's and Children's Hospital won't officially open its doors until next year, pediatric services have slowly been moved over to the University Hospital in a temporary space, allowing staff to take advantage of colocation sooner rather than later. These services, along with the birthing and NICU services still at Keene Street, will begin moving in March before being completely settled into the new tower by June 2024.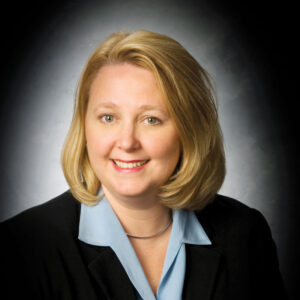 "I think our staff and physicians are very excited to get into the new building. A move always comes with apprehension, just because [things] are changing. Even thinking about where you'll park, how you'll get into the building," Keri says with a laugh. "So I'm sure there are some nerves related to that."
Even with the new addition in the works, many have wondered what will become of the building on Keene Street.
"For all of the reasons that we decided to build this new tower, we are planning to vacate the Keene Street location for clinical services," Keri explains. "It's a building that has served us very well, but it was built back in the mid-70s, and not for the populations that it's serving. Certainly, technology has changed, and the building has aged, as it's probably best suited for something that is not taking care of inpatients in the future."
She says the hospital staff is looking forward to the new tower, in hopes that it will help them continue to serve the community with top-notch care.
"Last fiscal year — just in our children's hospital — we served about 55,000 unique patients that come from all over the state, and some beyond our state borders," she says. "We very much see this as a statewide resource that we are proud to be improving and preparing for decades to come." CBT