Four decades ago, Columbia Public Schools invited local businesses into schools to help teach children life skills, introduce career opportunities, and build community. The program was pioneered by Jolene Schulz, former director of communication and school/community programs with Columbia Public Schools, as part of a Reagan-era education initiative.
The program began nationally as a result of a presentation to to then President Ronald Reagan, by Barbara Russell — an educator from Nashville, Tennessee — Shulz says. Russell created "adopt a school" and pitched it to Reagan, who reportedly thought the concept was "absolutely wonderful" for getting the business community involved in Nashville schools. Schulz traveled to Washington, D.C., to see Russell at a conference.
How It Started
When Schulz returned from the conference, she was geared up to start the program in Columbia. However, she was concerned that Columbia businesses might not have the same resources as businesses in urban hubs.
"We don't have all these big businesses in Columbia that all the big cities have like Nashville, Dallas, or San Diego," Schulz says, recalling the initial challenges facing the program. "And [former superintendent of schools] Dr. Thompson looked at me and he said, 'Jolene, make it work.'"
Schulz and her team decided to take a different approach. She didn't think schools wanted to be adopted or that businesses wanted to adopt schools. She wanted to create a mutually beneficial program that helped not only the students but the businesses and the community, too.
"We wanted both the schools and the businesses to feel very comfortable with what they were doing," she explains.
To kick off the program, Columbia Public Schools invited Russell to Columbia to talk about the success she was seeing in Nashville. The need in Nashville was great, as Russell explained, and businesses were helping with everything from repainting classrooms to even teaching during a teacher shortage.
"When Barbara Russell came to Columbia, we invited 15 businesses that we thought were the movers and shakers in Columbia to attend lunch," Schulz adds. Russell discussed the Nashville program, what it was like, and how it was benefitting the schools and the communities.
Of the 15 businesses invited to the Columbia presentation, 11 signed up for the program.
A Strong Purpose
Partners in Education aims to show students the multitude of options after K-12 education ends. Schulz says the program introduces children to the many opportunities available to them after school.
"When I was growing up, I could be a secretary, a nurse, or a teacher, and that was it," she beamed. "The goal is to expose kids to the fact that they can be a scientist or they can be a construction worker. They can be whatever they want to be if they know what's out there."
The idea is to get as many different types of businesses involved and distributed equitably to the different schools in the district so that students are exposed to a variety of businesses during their time in CPS.
"We tried to make sure that the kids had an opportunity to be with different businesses from elementary school all the way through high school," Schulz says. "So they are exposed to as many as 10 different businesses by the time they graduate"
The businesses share resources with the schools to enrich the curriculum, introduce students to life skills, and provide human capital to the schools.
"We asked for a handshake instead of a handout. We wanted human resources," Schulz recalls. "They weren't having to write a check. We thought that we could foster a good understanding between the public school system and the business community."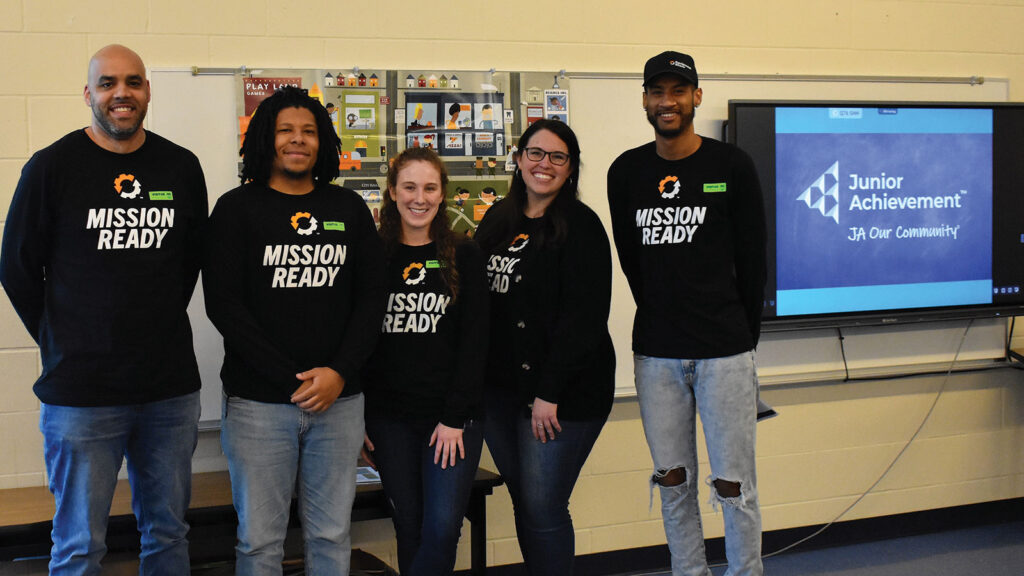 PIE Today
Partners in Education is celebrating 40 years this year and roughly 250 businesses are involved with the program, some of which have been involved for decades. Each partnership is unique and allows the business to get creative with how it interacts with the schools.
The goal is to connect members of the community and share resources. Businesses come in and help children learn about the world around them. Molly Delgado, CPS community relations manager, says some partnerships focus on academic achievement and skills, like D&H Pharmacy's literacy week at Midway Heights Elementary.
"Each week has a special theme. In the past they've done 'Wild About Reading' and they will bring in some animal stories that coordinate along with some crafts, all while promoting literacy at Midway Heights," Delgado enthusiastically recalls. "Then they celebrate" by providing snow cones from Kona Ice or some other treat.
Other partnerships focus on introducing children to the variety of options available to them once they graduate. For instance, Douglass High School has several downtown business partners and will host a career development event, where each of the partners sets up a booth and then works on mock interviews, resume writing, and what it means to be part of the community, Delgado explains.
Some partnerships, like Junior Achievement, provide access to all students, like the yearly trip for fifth graders to BizTown in Chesterfield.
"The kids experience being the mayor, being the manager, learning about if they don't pay their bills, or what happens if they are short-staffed with employees," Delgado adds. "I know a lot of kids will come back and say, 'Oh, I was an adult today. That was really hard. But fun.' They come back with fun stories."
How to Get Involved
To get involved, a business owner or leader simply has to contact Delgado. From there, the business and the school work together to come up with a unique partnership.
"It is really meant to be a true partnership. It's not about donations. There isn't a cost associated with becoming a Partner in Education," says CPS Chief Communications Officer Michelle Baumstark. "It is truly about a mutual relationship between the program and the business or organization … It provides an opportunity for our scholars to be able to interact with people in the community. It provides an opportunity for employees from the business to be able to have a better understanding of what happens within the school building."