From small start-up to the Surety Skyline, a local business with a national view helps fuel COMO's economy.
SuretyBonds.com has been in the background of Columbia's business scene for over a decade. This year, however, it joined the heart of Columbia by opening a new office, Surety Skyline.
"We reached a stage of maturity in the company and people just needed a nicer space. The last space we had been at for close to 11 years," explains CEO Josh Kayser.
Surety Skyline takes up the top two floors of the Hawthorn Bank building in the heart of downtown Columbia. The office was built by local contractors led by designers at Marathon Building Environments and Steve Koirtyohann as the general contractor. The stunning design features deep blues and the walls will soon be adorned with works by local artists.
"It was not turnkey, it was not plug and play," says COO Danielle Burrow. "It was very intentional and personalized to Josh's vision."
The move is a big step for the local business and is a representation of its journey, and a "thank you" to its employees.
"We've matured out of that stage of the company where we prioritize product over office. We now have a nice office, which also works well with everyone's lifestyles," Kayser adds. "When we moved there most of us were 27, 26 years old. We weren't thinking about these intricate details."
SuretyBonds.com was founded as an offshoot of the Veterans United family in 2009. The new company provided a much-needed service of surety bonds, which are a form of insurance, for a variety of professionals like contractors and loan officers.
"Most of the products we're selling are required for licensing purposes in heavily regulated industries," Burrow explains. "They are used to guarantee licensing compliance."
With the new space in the heart of Columbia, SuretyBonds.com expects to become an integral member of the downtown community.
"The goal of this space is very much about face-to-face, on-site networking," Burrow notes. "If you want to be integrated in the local business community, move downtown. You're more accessible to people. You're more available and centralized."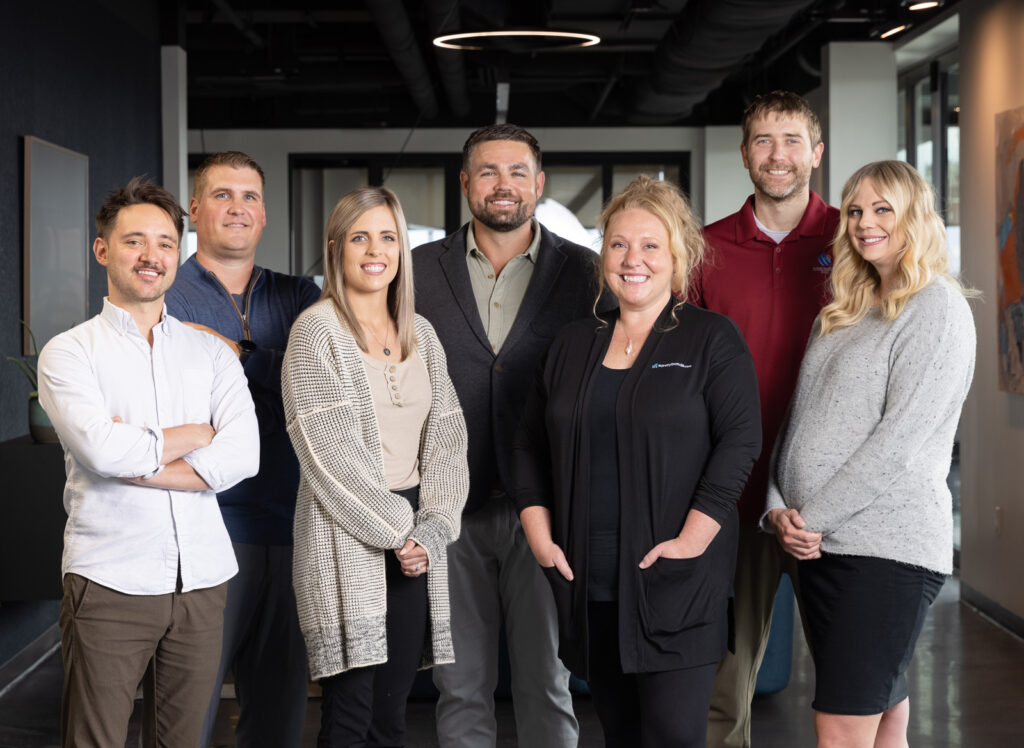 The New Office
SuretyBonds.com has steadily grown into a business that takes care of its team and rewards hard work. That's what the new office is all about.
"Part of this was about leveling up past the DIY startup business approach that we've historically taken." Burrow, who's been with the company since 2009, says. "It's just been really fun to make something our own from scratch. It's about rewarding our employees and engaging them in more intentional and meaningful ways on-site. We hope to encourage things like collaboration and hangout time."
Surety Skyline is a two-floor office taking up the fifth and sixth floors of the Hawthorn Bank Building on Walnut Street on the east side of the Boone County Courthouse. The design is geared toward comfort and productivity, with noise-canceling tech in all of the conference rooms and adjustable lighting to help maintain circadian rhythms even when inside all day.
"Most of the lighting and the colors mimic daylight, which sends your body signals that it should be awake, and it should be ready to go," Kayser explains. "Even when it's cloudy outside, the white lights will look like daylight."
White bright lights are helpful in some cases and most of the spaces in the office feature a variety of dimmers. One can turn up or down the noise canceling as well as change the brightness and color temperature of the lights. The lights are even programmed to help signal employees it's time to go home.
"We put dimmers on everything because we knew everyone was going to want different levels of lighting," Kayser continues. "These lights are programmable, and you can change the color" matching the Kelvin temperature. "At 7 p.m. they go to a dimmer temperature to send your body signals that, 'hey, it's time to go home,' and at 6 a.m. they go back up to the high color temperature."
The Fifth Floor
The fifth floor is home to the executive offices and the in-office staff. There are a variety of "touchdown spaces" that hybrid and remote employees can use to get work done.
"Employees who are here five days a week have individual cubbies and convertible standing desks," Burrow says during a tour, making sure to point out the individual light controls at each workstation. "There are hybrid stations where anybody can plug into for hybrid people as well."
The fifth floor also features a high-tech meeting room.
"This is our huddle area for team meetings," Burrow points out. "We can pipe people in on the TV virtually."
There is also a wellness room for those who need a little break. It can also be used as a lactation room for new mothers.
The Sixth Floor
The sixth floor of the office is in the space that formerly housed Pressed. Some of the features, like the iconic garage door, were integrated into the new design.
The former Pressed bar was transformed into a stunning cafe and kitchen area for staff to enjoy lunch. Kayser has dreams of inviting well-known chefs into the space for events.
There are a few flex desks for remote workers and a spacious conference room. The upstairs furniture is modular and movable to make space for larger team meetings and annual events.
"The idea is a group workspace up here and an event space for vibes," Burrow adds.
The Downtown Community
The new office and its upscale features are resources that employees can share with their clients and select organizations, including nonprofits.
"If an employee works with an organization personally, and they need a space for some sort of retreat or event, we hope to help provide that space where these connections exist," Burrow explains. "We have this room with all this tech, and we really want it to be available and accessible for people to use within the community as well."
The space is intended to be a cornerstone of the community.
"We really take almost no money from Columbia — we mostly do business nationally. But we do bring money into Columbia," Kayser remarks. "National companies help cities grow. That's how cities become bigger and better. It's a hamster wheel of economics. We pride ourselves on being able to be a national company and being able to support Columbia."
Though its reach and market is national, SuretyBonds.com will continue to prioritize local connections, too.
Burrow concludes: "We've always tried to integrate and support our local business community and for us, being downtown in the heart of it is very important to continue fostering those relationships so we're more of a known presence in the community."
---
SuretyBonds.com
803 E. Walnut St., 5th Floor
800-308-4358
suretybonds.com