Founder and Conspirator for Good at Partner for Better
Job description: I conspire with people and organizations so they can do their best work. Depending on the day I am a big picture thinker, strategist, community advocate, coach, confidant, finance manager, or yes, even janitor.
Professional background: I've worked in nonprofit organizations since I was 18. I've gained critical experiences at Wonderland Camp, Adventure Club, TSPA Grant Writing Program, First Chance for Children, and so many others that shaped my passion for partnering with our community and sharpened my skills to build nonprofits. While working full-time my entire college career, I received a Bachelors in Social Work, Masters in Public Affairs – Nonprofit Management, and am currently working on a PhD in social work. In the last decade, I've worked at all levels of organizations from frontline staff, program management, and the executive director.
Today I run Partner for Better, a nonprofit consulting firm focused on creating nurturing spaces for learning that builds the wholeness of individuals, nonprofits, and communities. My team of co-conspirators helps organizations with funding strategy, grant writing, program evaluation, reducing burnout, coaching, strategic planning, and so much more.
Hometown: Camdenton, MO. Home of the Lakers. Fun fact, they didn't have a football mascot until a few years ago, and now it's just some cartoon hulked out football player. Seriously, look it up.
Years lived in Columbia: 11
Quote you live by: "Actually I can." It's in glitter lettering on a cheesy coffee mug my dad got me for Christmas when I was in undergrad. I use this as a daily affirmation. Some of the more consistent ways I use it are "Actually I can …":
show up for myself and others.
do the hard thing.
invite others to the table
(and bring them a chair).
hold space for discomfort.
be kind, especially when it's challenging.
make time for creativity and fun.
question the status quo.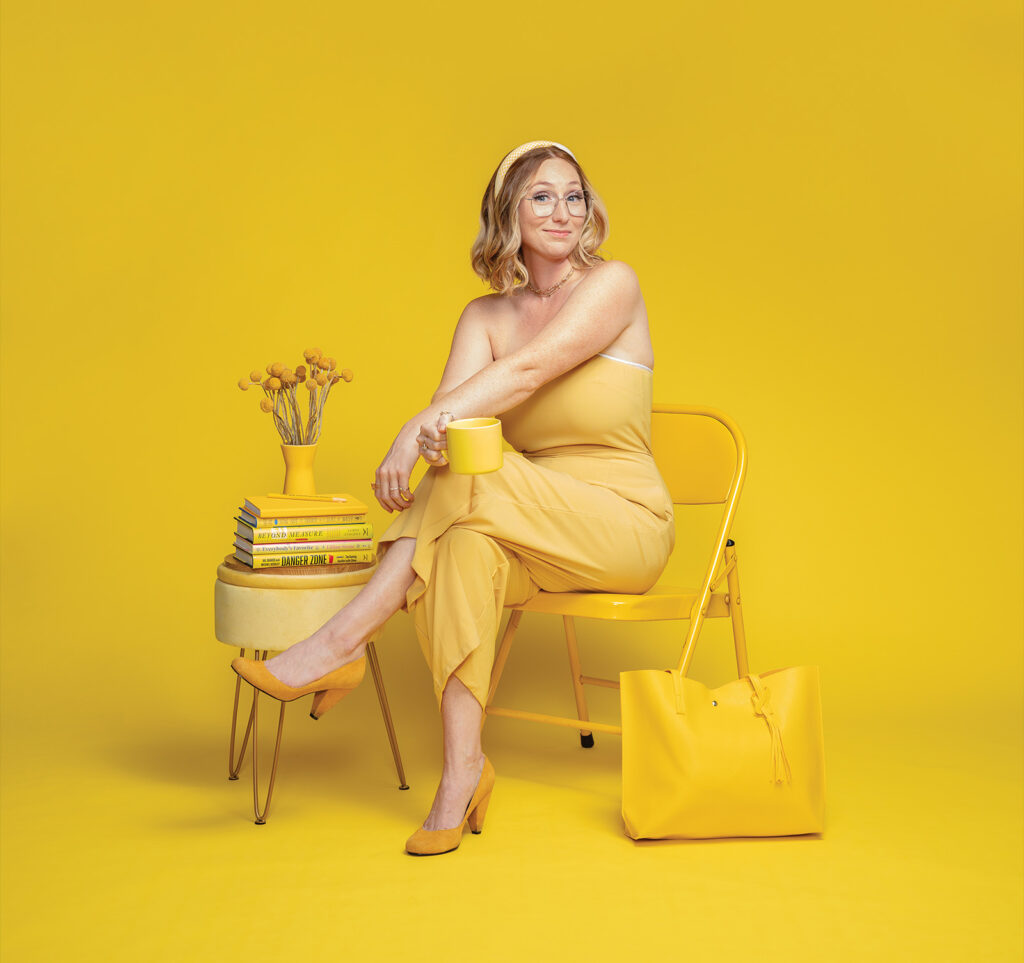 Favorite volunteer/community activity: Teaching Columbia Art League kids summer classes!
Favorite recent project: In the last six months, my team has written and secured over $6 million in federal, city, and state grant funding for mid-Missouri nonprofits.
A Columbia business person you admire and why: Ann Merrifield. She is who I want to be when I grow up. To me, Ann exemplifies what it means to be a leader. She never stops learning, is always building community and is lifting others up. She is a community advocate, volunteer, and leads Big Brothers Big Sisters.
Why you are passionate about your job: Because I'm doing important work and have an incredible team that supports me in showing up as my authentic self. I have the privilege of helping good organizations across the country do their best work.
Why you are passionate about your company: We get to make up the rules and put our values above everything else. What sets us apart is our dedication to empowering nonprofits with evidence-based strategies while also promoting rest, well-being, and joy in the workplace. We believe that true transformation happens when organizations are not only efficient and effective but also compassionate, inclusive, and fun. Who wouldn't want to be a part of that?
If you weren't doing this for a living, you would: A professional artist. I actually have most of a bachelor's degree in art/ceramics and spend a lot of time creating in my free time. In my next life, I'll be a famous artist and write million dollar checks to nonprofits.
What people should know about your profession: This is a secret I'm not supposed to share. Consultants aren't walking encyclopedias of all nonprofit knowledge. We're more like architects, crafting innovative solutions with a sprinkle of passion, a dash of data, and a whole lot of creativity, helping organizations discover their unique path to success.
Your next professional goal: Oh, I'm really excited about this one. We are starting a nonprofit arm of Partner for Better, called The Do Good Collective. We will provide grants, free classes, and sliding scale rates for local nonprofits. More on that in 2024.
Biggest lesson learned in business: Relationships and kindness are everything. As they say, "if you want to go fast, go it alone. If you want to go far, go together."
How you want to impact the Columbia community: My mission is to dismantle barriers, encourage collaboration, and promote restorative practices so that every individual and organization finds the support they need to flourish.
Greatest strength: My greatest strength is the incredible network of people around me and the support they provide. They encourage and challenge me. Their collective wisdom and belief in me makes me a better human.
Greatest weakness: I have a deep passion for social change, and while this fuels my work, it also occasionally makes it challenging to step back and find the balance needed for sustainable progress. This is one reason why I'm such an advocate for rest and fun.
What you do for fun: I love learning, especially if that learning means enjoying new food or culture. In Columbia, you can find me at Ragtag, The Mother Farm, or curled up with a book from Yellow Dog. I also spend a lot of time traveling, and most of my trips are planned around hikes and food. Ask me about my taco obsession.
Family: My husband, Max, and I have been married three years and have family all across the U.S. We have a pair of elderly pets with big personalities — an 8-year-old Australian shepherd and a 13-year-old Russian blue.
Favorite place in Columbia: The MKT trail.
Most people don't know that you: I create and sell art with my sister, Abby, and her business 1030 Creations.
Accomplishment you are most proud of: I was 22 when I became the interim executive director of First Chance for Children. I had a lot of experience for being so young, and what I lacked in experience I made up for in tenacity and audacity. I learned how to be a good leader by making a lot of mistakes and being willing to try things that might not work. I'm so proud of my time with First Chance and all we accomplished.