Living in Columbia, it's not unusual to hear people reference how fortunate we are to live in such a resource-rich community. Similar to how people who live in surrounding areas travel to Columbia for shopping, entertainment, education and healthcare, many also come here for help with basic needs. Our community helps people secure food, housing, and healthcare and also supports arts and culture organizations that lift the soul of our community. The very definition of nonprofit organizations as being those whose "mission and purpose further a social cause and provide public benefit" reinforces their importance to the fabric of our community.
Through the lens of my role at a community behavioral health organization, I have the opportunity to work across multiple communities, and can honestly say there is no other city in mid-Missouri as fortunate as Columbia to have the volume of resources and support available through mission-driven nonprofit organizations.
As a social worker by training, I've had the unique lens of interacting with many of our nonprofit organizations in various ways — working directly as a paid employee; helping individuals access resources through other organizations; volunteering as an unpaid board member providing oversight; volunteering time and resources as a committee member or volunteer for events; or attending local fundraising events. I am grateful for all the ways in which I have had the opportunity to interact with these unique organizations and see the passion and commitment they have to their missions and the individuals they serve.
Social determinants of health are the conditions in the environments where people are born, live, work, play, worship, and age that affect a wide range of health, functioning, and quality-of-life outcomes and risks. Public sector resources alone do not have the capacity or scope to create equity and decrease disparities across communities.
This is where partnerships between the public and private sectors can work to improve conditions in communities. Nonprofit organizations are uniquely suited as partners to fill these gaps with their knowledge of communities, mission-driven approach, and strengths to serve communities together. As Columbia grows, these partnerships become even more essential to a sustainable and thriving community.
A positive trend I have seen over recent years has been the welcoming of nonprofit organizations as equal and important members of the business community. Just because an organization qualifies for tax-exempt status with the IRS and distributes its profits back into furthering the advancement of its mission and organization does not make them "less than" business entities.
Nonprofits are one of the driving forces within communities, and they support not only economic growth and opportunity, but civic engagement and leadership opportunities for community members. This indirect impact on Columbia is just as important for our community to thrive as the direct impact for the individuals who are served through the various nonprofits we are so fortunate to have as part of the fabric of our diverse and passionate community.
---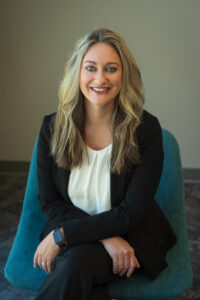 Megan Steen, MBA, LCSW, is the Regional Chief Operating Officer of Brightli's Central Region, which includes Burrell Behavioral Health.